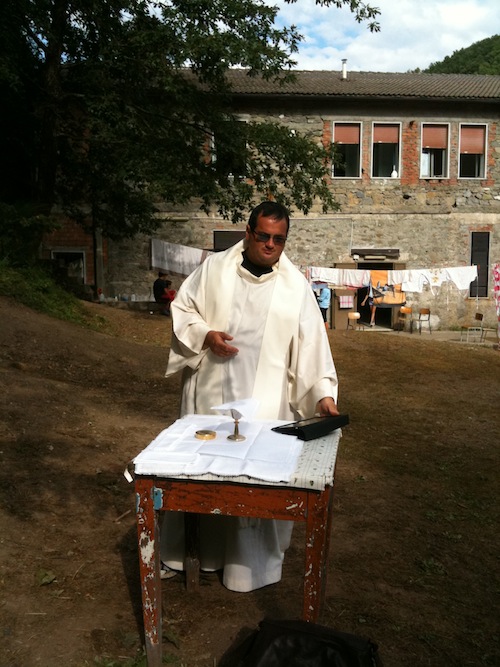 Don Michele Bigi, using the iPad to say mass at a summer camp in Gramolazzo (Tuscany) [Source]
Yikes. The using of the iPad with a PDF version of the Lectionary is the least troublesome part of this. Now I can certainly understand valid instances where the local ordinary would approve a Mass held outside. But, come on – couldn't he find a decent place inside to hold Mass? Plus the altar really makes me cringe. I guess you can use it for Mass and then mix paint on it afterwards.
Can. 932 §1. The eucharistic celebration is to be carried out in a sacred place unless in a particular case necessity requires otherwise; in such a case the celebration must be done in a decent place."
We often hear about Catholics who want to have their wedding Mass held outside. The local bishop can give a dispensation for that, but I don't know of such a case where this was done. But I have seen a lot of photo's of priests conducting Mass outside in less than ideal circumstances – or maybe I just see the photos of the more shocking cases.
I once went to an outdoor wedding held in the Rose Gardens next to the Zoo in Portland, Ore. When the minister asked the "Do you take" question the Zoo train blew it's whistle. It was pretty funny though.
I previously posted thoughts on the iPad at Mass here.