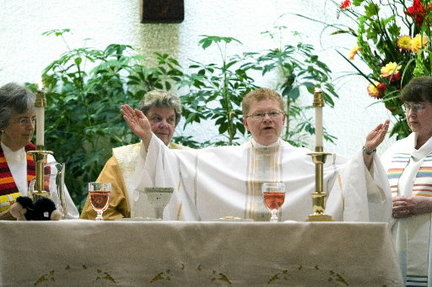 Toni Tortorilla [Source]
I am shocked at this picture! Doesn't this women "priest" know that glass chalices are not allowed. Surely she has read Redemptionis Sacramentum. After all women priests are just like male priests and they only differ with the Church on the issue of women's ordination and just want to be obedient to Jesus and his Church.
It always seems to me that the real reason these women don't become Episcopalians instead is that they would get no attention if they did so. This way they can be "brave" in opposing that male dominant church they so hate and want to be part of. That when it comes down to it, it is not only one issue they disagree on — but a whole agenda comes along with it. Show me a women "priest" who defends the Church's sexual teachings and has an orthodox theological view and I will show you that the bearded Spock must live in that same universe. These women would be a much closer fit with Episcopalians since their theology and antics would fit right in
As I have quipped before, where are the women who feel a call to the priesthood that want to celebrate the Extraordinary form of the Mass. Where are the traddy women priests and why is it predominately women with butch haircuts that feel this call?
From the article the picture was taken from:
Q: Is there a biblical basis for ordaining women?

A: In 1976, a report of the Pontifical Biblical Commission looked at Scripture and found no justification in the New Testament for excluding women from the priesthood.
I guess I am shocked again by this lie. I have a copy of this report and it says not such thing.
"It does not seem that the New Testament by itself alone will permit us to settle in a clear way and once and for all the problem of the possible accession of women to the presbyterate,"
This statement from the commission is nowhere close to how it is often portrayed by the women's ordination movement. The reason I have the commissions report is because I had seen this claim before. The report goes on to say:
The masculine character of the hierarchical order which has structured the church since its beginning thus seems attested to by scripture in an undeniable way. Must we conclude that this rule must be valid forever in the church?

…In fact there is no proof that these ministries were entrusted to women at the time of the New Testament.
And of course this preistette does not mention that the Pontifical Biblical Commission did not found any evidence for ordaining women in the Bible either. It is Jesus' example that shows this to be his will and of course the constant teaching of the Church from the beginning on this. The only women priests in the early church were heretical groups like Collyridianism. And of course as then-Cardinal Ratzinger replied in his Responsum ad Dubium "This teaching requires definitive assent, since, founded on the written Word of God, and from the beginning constantly preserved and applied in the Tradition of the Church, it has been set forth infallibly by the ordinary and universal Magisterium."