Here is a topic I never expected to cover on this blog.  Some surely are aware of the area of mobile applications generically called the fart app.  These apps originally appeared for the iPhone/iPod Touch and can now be found on all mobile devices.  The fart apps themselves range across the board, but there main focus is of course the sound of flatulence.  Yes we have moved from talented kids orchestrating this sound via their armpit to software developers doing it electronically.  How this became a popular area of app is decidedly low brow and to me seem more in the line of playground humor.  Though in way too many children's movies the fart has become a prominent part of the humor such as in Shrek.  One of the reasons I so love Pixar is that they make great and funny movies that never resort to this and treat children much more intelligently than going for the cheap laugh.
For the interest of disclosure my iDevices are fart app free.
Now you might wonder why I have chosen such a topic? Well the reason is a new video game by Mutant Games coming out later this year.  As I was going through all the RSS feeds I follow which include feeds on iOS applications I noticed something in the picture they had up for this new game called Farts vs. Zombies.  Unfortunately I think I am describing this game accurately when I tell you the gameplay is to touch Chuck Norris' derriere and then direct the fart toward a zombie hoard attacking you.
This is a takeoff on the highly successful game Plants vs. Zombies which is a very enjoyable multilevel tower defense style  game that has loads of nice touches and humor without resorting to farts.
Here is a screen grab from their promotional video.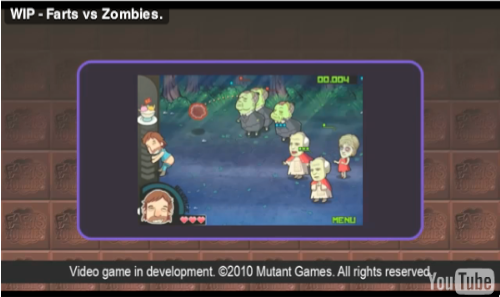 Whenever a YouTube video is displayed it shows one of the frames from the video – not necessarily the first frame.  When I saw this frame I immediately noticed the resemblance of one of the zombies with Pope Benedict XVI.  So I played the video and sure enough the frame I captured clearly shows that this is intended to be a zombie version of the Pope.
To say that this is in poor taste even for a game with poor taste is an understatement.   Even the low brow portrayal of the power of Chuck Norris' flatulence lends itself towards the Chuck Norris meme of his mighty powers.
Now would I be as upset about this if one of the zombies was Hans Kung?  Probably not – but loving my enemies includes not wanting to have farts directed at them in such a demeaning way.
Here is the promotional screen shot they use for their video.  The one frame they thought important enough to select as the frame shown when you first download a webpage.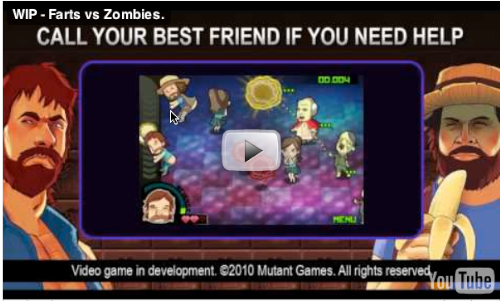 Yes the predictable Hitler and Pope Benedict XVI moral equivalency by zombie portrayal.    I sincerely hope that the developers loose money on this game, but realize any organized outrage would probably lead to more sales for them.
Now I am not against zombie humor myself as this post shows. But at least I did not direct or waft anything in the direction of Dick McBrien even if his theology smells.