TWS: On the legal question, do you think there should be penalties against abortion doctors? I mean, should it be illegal to perform abortions?

CAMPBELL: That's beyond my pay grade. I don't know.
Wow that seems like a very similar reply dodge. The very same one then-Candidate Obama gave during the forum at Saddleback Church. I wonder which of the other 10 Commandments are above her pay grade? Bless me Father I am not sure I sinned because it is beyond my pay grade. Plus doesn't it seem rather odd for a women religious to be speaking in terms of pay grade anyway? Strangely it seems to me that if you are the Executive Directory of an organization that lobbies for social justice this might just possibly be within your pay grade? Really for every Catholic it it within our pray grade.
She is part of the Nuns on a Bus and somehow she didn't notice the the President had thrown Catholic consciences under the bus.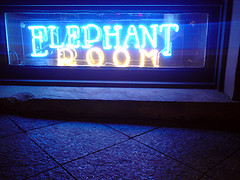 Ironically for a Democratic convention there was a large elephant in the room that Sister Campbell studiously ignored. To rant on the Ryan budget that had no chance of going through at a convention where abortion is not only enshrined in their platform but something cheered every night of the convention. If anybody that wants to take up prudential points concerning a budget that is there prerogative – though it is rather amazing that the complexity of the Federal budget was not above her pay grade. To ignore the abortaphant in the room is another story. Giving the party of death a Catholic veneer by speaking at their convention without mentioning this is an act where usually the pay grade is compensated with 30 pieces of silver. Jesus' request was "Not let the little children come to me – in pieces."
I would further rant about what she did, but I think I will spend some time praying for her instead.
Article via Father Z
photo credit: Eelke de Blouw via photo pin cc