I find the brothers at Catholic Minority Report to be quite annoying. I swear they take ideas right out of my head before I am aware of them and use them. I agree with them so often that I feel I must have been the one to write their posts. I would totally accept this hypothesis except for the fact that they are much better writers. Case in point.
Are you tired of having that same old dinosaur? Have you been worried for years about the deleterious effect that those old clunkers have had on the environment and art in our worship? Have you been thinking about upgrading but were just not sure if now was the right time? Well think no more!
Thanks to an exciting new Vatican Program you can trade in your tired, old, progressive Priest, Liturgist, or Music Director for a brand new – certified orthodox – model.
The Vatican has begun a a new program officially called "Faith and Tradition Recovery Act" but otherwise known as "Mass for Clunkers." Under this program you can trade in your harmful old "Community Faith Director in the Catholic faith tradition" for a brand new Priest in the Order of Melchizedek! This exciting program also applies to progressive liturgists and music directors.
A brand new orthodox model comes with many benefits! First and foremost, a new model is guaranteed to save more souls! These antiquated and out of date models have wrecked our churches for too long! Save our environment and trade in your old progressive clunker now and as a bonus you will receive a 4500 days indulgence absolutely free!
So trade in you old clunker now! This is a limited time offer!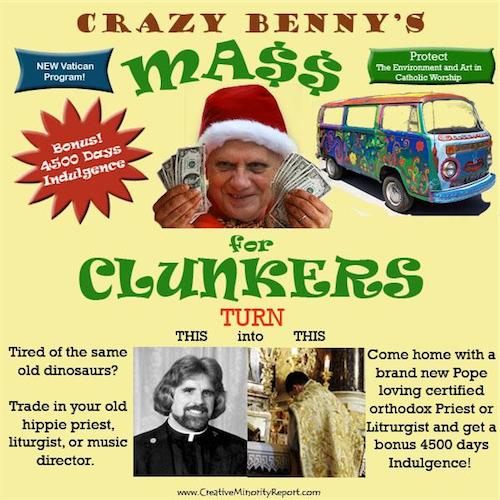 Now this would be really funny if it wasn't for reality. Via Diogenes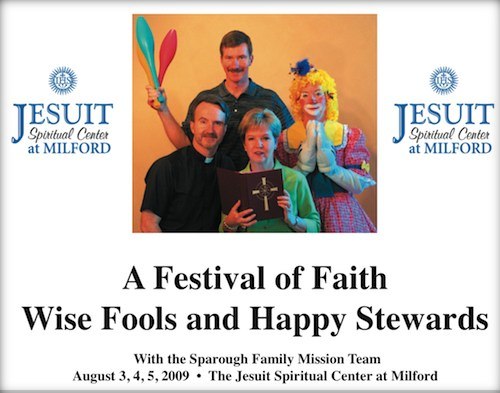 I know what you are thinking. Surely this has been photoshopped and set forth as a jest. I agree it is quite shocking to see a Jesuit wearing a Roman collar – but I assure you it is true and it came from Jesuit Spiritual Center at Milford.
Now being a Catholic Jester surely I can see how the Gospel can be preached in a light-hearted manner and it is just possible that it is being taught in an orthodox way. Even with clowns perhaps, though I draw the line at mimes.
The priest here is Fr. Michael Sparough, SJ who I believe is a friend of Fr. Mitch Pacwa who he knew from his days involved in the New Age and teaching the enneagram. I believe he has also appeared on EWTN with Fr. Mitch Pacwa. The retreat center though does not seem to have a problem with New Age practices since they also have things like a "Yoga Slumber Party" where "You'll be treated like a Goddess!" The instructor promotes a book where you can learn how to "radiate light to the planet earth!" and thank a Higher Power such as sacred Chi as "you breathe in loving energy and breath out love."
Feel Mother Earth share her vibrations and wisdom with you.. Absorb her energy. Feel it surround and pour through you.
All why listening to "New Age" and "Space" music. Trippy man! Yes solidly orthodox. Plus they have a chapel that makes furniture from Ikea look extravagant and of course the mandatory labyrinth.
Okay enough Jesuit bashing. To cleans your palate I would advise you to check out a new group blog from several young Jesuits called Whosoever Desires.