A reader sent me the following story.
KFC, the nation's largest fast-food chicken chain, this week began selling something it's never sold nationally: fish.
Its new Fish Snacker sandwich sells for 99 cents and is available at all 5,500 locations across the USA. In an unusual move, President Gregg Dedrick sent a letter to Pope Benedict XVI, asking him to lend his personal seal of approval for the item "as a way for members of your flock to keep a holy Lenten season."
ON DEADLINE: Cute? Offensive? Will you be eating a Fish Snacker this Friday?
The Fish Snacker is a filet of 100% Alaskan Pollack topped with tartar sauce and served on a sesame bun.
Vatican officials confirmed they received KFC's request, and the company is hopeful to get the pope's blessing this Lenten season.
"People can enjoy the flavor of the new Fish Snacker any day of the week, but we believe it will be especially popular on Fridays," said James O'Reilly, chief marketing officer for KFC, a part of Yum Brands

Well as an outright publicity stunt I guess this one is rather successful since it is getting coverage. But publicity stunt it is since the Pope never endorses any product and even if he did how would you bless a product line?
Though if they were going to pick a product name for a line with Catholics in mind how about snappers instead of snackers. As in Mackerel Snappers. While Mackerel Snapper was a derogatory term for Catholics, I think most Catholics find the term rather fun. Chicken Snappers would be quite fun. Now I know the Church supports the KoC not KFC, but you can imagine a kind of fun merger. Holy Water could be advertised as "Finger dippin' good." When it comes to the Catholic Church of course it was the Original Recipe of Christianity. Though KFC now provides fish for men the Church is a fisher of men.
Now KFC isn't the first chicken chain to try to blatantly appeal to Catholics. For example the following graphic illustrates something that other people have noticed.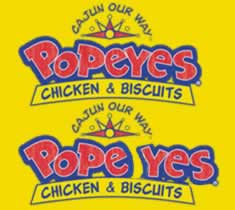 Certainly Pope Yes has to have great appeal among those united with the Pope. The Popeno chain never really took off since you were only allowed to select one or two items off the menu and they gave you condoms not condiments.
But none of them beat my favorite chicken restaurant.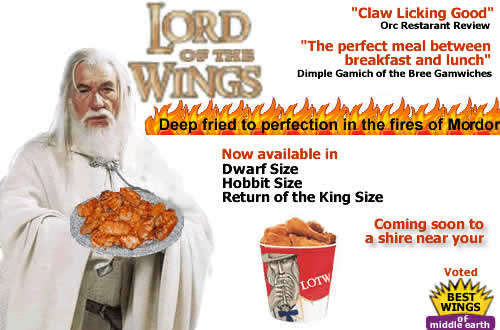 From my previous parody.