The nation's largest abortion business has started a new wireless communications system partnering with a long-time pro-abortion long-distance carrier. Planned Parenthood's new cell phone service will allow pro-abortion activists to not only make calls but get action alerts from the organization.
Planned Parenthood Wireless is a new affinity program that allows its supporters to sign up for a mobile phone service and see 10% of their monthly bill go back to the abortion business.What a disgusting idea that is.
The pro-abortion group will also use customers' monthly bills to include action alerts and information and will provide 30 free minutes of calls every month to encourage its members to talk to friends about abortion issues.

[Via The World IMHO]
So when you drop a call does the display say it was terminated? If you call to complain about terminated calls will they say that since it was only a one cell coverage organism that it does not really count as a call?
"Can you hear me now? No you just vacuumed my brains out." Will probably not come out as a commercial for this new product.
Exactly what cell phones will they have? Obviously a Razor would fit right in. The following is a previous parody that I did, that I think fits right into to this line of thinking.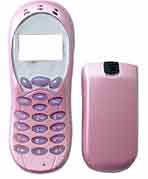 The promise of embryonic stem-cell research has finally materialized and this new technology is finally available to the public. This phone is made entirely from grade A embryonic stem-cells developed fresh from our factories with only the freshest life. You have heard the scare about other cell phones possibly causing brain tumors. Well the stem-cell phone might heal the tumors given you by other phones by rebuilding your brain cells. Or maybe give you tumors like what happens in ESCR trials.
This new stem-cell phone is feature packed.
No roaming charges
Never goes out of range
Never needs batteries
Never wears out since the stem-cells are always regenerating
Always clear reception
Make as many calls as you want with no increased monthly charges
If Christopher Reeves would have had a stem-cell phone he would have got up out of his wheelchair and talked. – John Edwards
Now anybody seeing this advertisement would be highly suspicious of these amazing claims. They would notice that no reputable scientist supports these claims and that there is no research showing that stem-cell phones would actually work. Why then is it that with the same outlandish claims and circumstances that people have become so convinced of ESCR?