ABC News states: "On the road, Kerry carries a rosary, a prayer book and a medal with the image of St. Christopher, patron saint of travelers, which he wore during the Vietnam War, according to a longtime associate who demanded anonymity to discuss an issue the candidate did not want to discuss."
Now this sparked my interest in how a life-begins-at-conception, abortion-voting, same-sex-marriage-supporting, embyronic-stem-cell-destruction-supporter Catholic politician might meditate on the mysteries of the Rosary. Possibly Kerry's fictitious Pius XXIII defined some mysteries that I am unaware of. How do you meditate on the Annunciation where Christ becomes Incarnate and then sponsor a "Clone and Kill" bill? Well thus intrigued I did some research as to what Rosary meditations that he might be carrying along with his prayer book and rosary. So here is the illustrated booklet I found with appropriate meditations.
The Flip-Flop Mysteries
The First Flip-Flop Mystery, The Renunciation
Let it be done unto me according to the results of a focus group. Think about how precious life is and that human life starts at conception. Life is especially precious when you can extract some stem-cells from it before discarding that precious life. How can you be both pro-life and for embryonic stem-cell research? How can you believe that life begins at conception and then fly across country to vote against the fetal-homicide bill. Life is a gift given by God but can be returned to sender by the abortionist. This must be so, since you voted against the partial birth abortion ban. Don't lose any sleep over these contradictions. This is a mystery and a seeming paradox that will dissipate under the spell of political power.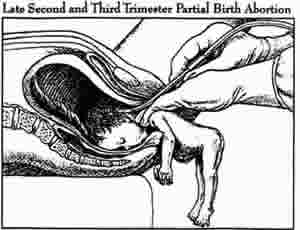 The Second Flip-Flop Mystery, The Same-Sex Wedding at Cana
As a Catholic Politician you realize that support of same-sex marriage is against your faith, but is fully endorsed by your political party. What can you do to resolve such a situation? You can be a leader and stand against the secular tide and bravely defend the truth of marriage as only being between a man and a women. If you are not quite up to that, then in your decisive leadership make sure you skip the vote on the FMA.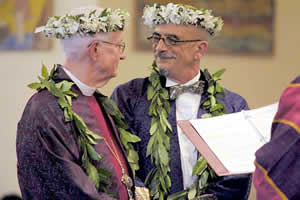 The Third Flip-Flop Mystery, The Crowning of Personally Opposed
Meditate on St. Mario Cuomo who first came out with this line at a conference at Notre Dame at the invitation of the Rev. Richard McBrien. Dwell on this powerful sound-bite that almost sounds rational if not dwelt upon too long (no more than a couple of seconds). Relish the opening "I am personally opposed to abortion" and the the fabulous "but …" This "but" is the giant loophole that you could drive a truck through or a whole political career. While this statement does not stand up to rational scrutiny you can be assured that nobody in the elite media will ever challenge you on this. This is the Emperor's New Clothes of political statements, yet 60 minutes or morning shows will never point out that you are philosophically naked. Think upon the Gospel accord to Cuomo "to make my religious value your morality? After all you would never want to do any such thing, unless of course it is mandatory Government health care, government funded embryonic stem-cell research, government funded abortion, etc. These are the exceptions that prove the rule; or in this case the rule is all exceptions.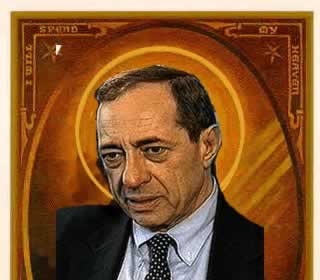 The Fourth Flip-Flop Mystery, No King But Caesar
"I'm not a church spokesman. I'm a legislator running for president. My oath is to uphold the Constitution of the United States in my public life. My oath privately between me and God was defined in the Catholic church by Pius XXIII and Pope Paul VI in the Vatican II, which allows for freedom of conscience for Catholics with respect to these choices, and that is exactly where I am. And it is separate. Our constitution separates church and state, and they should be reminded of that."
"We have a separation of church and state in this country," he told Time. "I don't tell church officials what to do, and church officials shouldn't tell American politicians what to do in the context of our public life."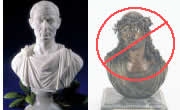 The Fifth Flip-Flop Mystery, The Institution of the Eucharist
Partaking of the Sacramental Body, Blood, Soul and Divinity of Jesus in the Eucharist is the source and summit of the Catholic faith. Thus it is only between you and God and no meddling Bishops who think their job is to actually pass on to teach you the faith. There is separation of Church and State (don't bother looking for it in the Constitution) and if they try to get you to change your views you will smite them with the mighty IRS with the threat of the removal of tax exempt status.
Meditate on this statement of Blessed Pelosi "'I fully intend to receive Communion, one way or another. That's very important to me,''I believe that my position on choice is one that is consistent with my Catholic upbringing, which said that every person has a free will and has the responsibility to live their lives in a way that they would have to account for in the end.'"
Or Rep. Clay who said that if a priest refused him communion, "I would stand there."
How dare anyone say you are not in Communion with the Church just because you support, abortion, contraception, homosexual marriage, embryonic stem-cell research, and human cloning.
What communion hath light with darkness? Well who cares, your presenting yourself for Communion anyway.
Now if you happen to be campaigning in St. Louis – home of Communion denying Archbishop Burke what do you do. Do you (A) bravely stand on your conscience and go to Communion knowing that you are a good Catholic. Or (B) not fulfill your Sunday obligation by slinking away to a non-Catholic Church instead. Photo below is option B.