At the beginning of the month there was a story about Sister Judith who runs the Vatican web site and that she was designing a new site to bring together the faithful that was describe as MySpace.com for Catholics. I was intrigues by this idea and subsequently emailed Sister Judith to get some more information on this new initiative. She was kind enough to send me the following screen shots and information about the new site.
This is a sample of the main login page at myworshipspace.com
prayer | novenas | bible | catechism | magisterial documents | wednesday audiences | videos
myworshipspace music video search

Seattle sensation

Praying Chantis

MyWorshipSpace Music [more music]
Fr Stan
Rap

All songs recorded live by Fr. Stan with his bass and percussion instruments using his boomerang phrase sampling pedal. Recorded live first takes… no studio overdubs or punch-ins…

MWS PODcast [more PODcasts]
Subscribe to our PODcast which each week explores the latest Pious Over Devotional practices. What prayers are your peers praying? What novena is hot? What is the latest up-and-coming devotional practice? Don't be left out – subscribe now via Vatican.

Member Login

Email


User name


Parish


Lost your Password?
Pray to St. Anthony

Cool New People

Benny Johnny Sr. Greta


Cool Dead People

St Therese St. Pio Bl. Francesco


Papist Photo of the Day


Pope out paddy cakes Hugo Chavez.
Get started on MyWorshipSpace

Join now for free, view profiles, pray for others, learn your faith, work toward becoming a saint.


Learn More

Create your prayer profile
Tell us about yourself and your favorite saints. What spiritual charism are you partial to?


Learn More

Spread the Gospel
Learn apologetics at a deeper level and discover how to go out into the whole world and teach the good news!

Learn More

Users can build their own profile pages with information like the following:
User's Details
| | |
| --- | --- |
| Baptismal Date: | |
| Confirmation Date: | |
| Vocation: | |
| Parish: | |
| Diocese: | |
| Rite: | |
| Children: | |
| Favorite Saint: | |
| Favorite Bible Translation: | |
| Occupation: | |
Unlike myspace.com "No way in Hell" and other variances will be rejected in the Children column. I think there coolest new service is the ability for IM.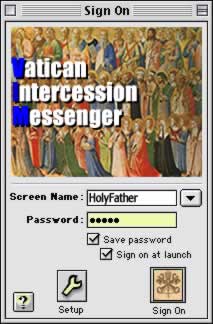 The Vatican Intercession Messenger. With VIM you will have lots of vigor to pray.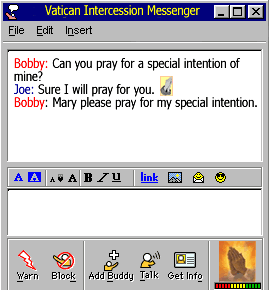 VIM includes an intercessory contact list so you can easily select your favorite saints for intercession. The prayer database lets you keep track of prayer requests from friends and others. Use the enemies list so you can also pray for your enemies.
All the feature of the new site look pretty cool, but I am really looking forward to one of the new features. Many have complained that it is almost impossible to find anything on the Vatican web site since. If you do find the document you want it is almost always be guaranteed to be in a language you don't speak, even if you speak multiple ones. The Vatican must have been listening sine they have gone ahead and worked out a deal with Google to implement the new search engine. Below is the new logo on the search page.