Moscow (Roto Reuters) A desktop icon that for years was on Pope John Paul II's private laptop returned home to the Russian Orthodox Church on Saturday, a gesture the ailing pontiff hopes will improve relations between the two churches.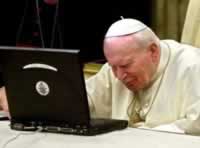 Pope John Paull II studies the contested icon.
The 32- by 32-pixel icon, taken to the West after the 1917 Revolution, was presented to the pope by a Catholic group in 1993 and has stayed on his private laptop. It shows the faces of Mary and the infant Jesus surrounded by an elaborately worked out 256 color palette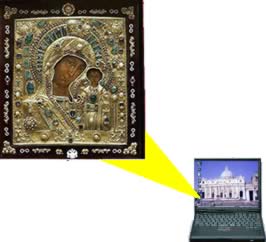 Close up of icon on the Pope's laptop.
The original desktop icon, which first appeared in Kazan, Tatarstan, in 1579, is revered by Russian believers for its purported ability to work miracles, including the rout of Polish invaders from Russia in the early 17th century. It hung in the Kazan Cathedral on Red Square and the Kazan Cathedral in St. Petersburg before disappearing.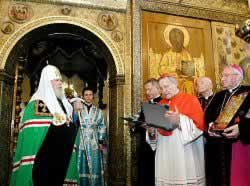 A Vatican delegation led by Cardinal Walter Kasper handing over the Kazan icon with the Pope's personal computer to Patriarch Alexy II on Saturday.
Initially there was some confusion about the Our Lady of Kazan icon. When the dispute originally was reported to His Holiness Pope John Paul II he mistakenly thought they were referring to the icon from Kazaa that was previously on his desktop. Kazaa is a peer-to-peer file swapping service. When the pope discovered nobody was sharing Gregorian Chant via P2P he removed the program and deleted the Kazaa icon. When he found out they were in fact referring to his Our Lady of Kazan icon he immediately said that not only would he be willing to give this back to them but if they wanted the "My Computer" or "Recycle Bin" icon, that they could have those also.
"May the Holy Mother of God turn her gaze toward the men and women of our time and may their computers never crash," he continued.
Actions such as these are consistent with the Vatcan II document Pastoral Constitution on the Church in the Modem World.