The app Annus Fidei is free and includes Church documents including those of Vatican II, but despite the information in the app store it is Spanish only .
What hasn't been reported is that there is also another app in the pipeline for a more progressive audience the "Spirit of Vatican II" app which includes these great features: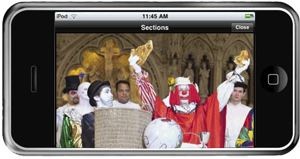 No actual documents of Vatican II, instead it includes a blank document where you enter what you want Vatican II to mean.
Uses the mobile device's front-facing camera to show you what your pope looks like.
Includes pinch-to-dissent.
Has maps for important shrines such as Hans Küng's birthplace and the headquarters of the National Catholic Reporter.
Top ten liturgical dance moves you can do today!
The Gather Hymnal the official hymnal of the Spirit of Vatican II. This special edition removes those hymns published before 1960 that were included for show and not use.
Augmented reality so you can see giant liturgical puppets everywhere.
Special photo filters to add tie-dye or rainbow stole effects to your photos.
Felt banner designer.  Use the groovy 60's templates or create your own.
Has the latest LTE technology, Liturgical Tambourine Environment.
Real time progressive religious order information. Note: Size decreasing and average age increasing over time along with progressive religious orders falling off the map is not a bug.
So what features do you think it should have?