The Curt Jester blog is written by Jeff Miller a former atheist who after spending forty years in the wilderness finds himself with both astonishment and joy a member of the Catholic Church. This blog presents my hopefully humorous and sometimes serious take on things religious, political, and whatever else crosses my mind.
My conversion story was published by Catholic Answer's This Rock magazine and can be found here.
You can email me at curtjester@gmail.com
I have been blogging since 7 July, 2002 and my first blog was called Atheist to a Theist which I ran for six months until I started this blog, The Curt Jester, on 9 Feb, 2003.
I became Catholic on the Easter Vigil on 4 April, 1999 and the love of my new faith led me to want blog about the Church in the first place.
I have been human since I was conceived sometime 9 months before October 1958.
I served in the U.S. Navy from Jul 1977 to July 1997 and retired as Chief Petty Officer. I was an Aviation Fire Control Technician and worked at Advanced Intermediate Maintenance Departments working on and supporting Avionics equipment throughout my career. During my sea duty tours I was proud to serve on the U.S.S. Midway (CV-41), U.S.S. Ranger (CV-61), U.S.S. America (CV-66), and the U.S.S. Eisenhower (CVN-69). When they merged some rates I became a Aviation Electronic Technician shortly after making Chief.
I currently work as an application developer programming content creation software used to develop courseware for the military.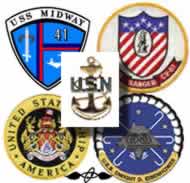 My "I love me" wall