Curt Jester Shops now has in stock the latest product to help you in talking to others, the Dial-Log™. You have longed heard from groups that if only we could dial-log then all problems could be solved. If the laity could dial-log with the Catholic hierarchy then all problems would simply fall away. But you have looked far and wide as to how to effectively dial-log and up to now you had no options.
Our Dial-Log™ come with a sturdy dial and specially preserved wood logs to ensure a lifetime of dial-logging. When someone asks you to dial-log with them you just grab your trusty Dial-Log™ and start dialing away to your hearts content.

We also have custom Ecumenical Dial-Logs™. Each of our high tech painted Ecumenical Dial-Logs™ have the logo of the church you wish to dial-log with.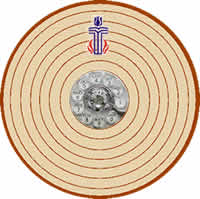 Don't settle for cheap foreign models that break at the first dialing option or offer termite ridden wood. Get the only Dial-Log™ with an unlimited lifetime warranty. No matter how many hours you log dialing you will never be unsatisfied with this fine American made product.