Here is another reason I so prefer choir lofts.  I have long said that unlike children "choirs should be heard and not seen."  If the choir I heard on Sunday had been in a choir loft I just might not have been annoyed by them and actually concentrated on the Mass instead.  Though I would probably have found another distraction.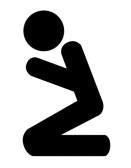 This specific pet-peeve which seems to affect the majority of parish choirs is that they don't kneel when they should. The  posture of kneeling is required for  the entire Eucharistic Prayer and yet choir members act like they are just hired labor outside the bounds of the Mass. Every knee shall bend before Jesus unless I guess you are a member of the choir.
The fact that most areas for the choir do not have kneelers is not a just reason for not kneeling.  Yes even if you are one of the leagues of folk guitarists that are so common at Mass you can still kneel and play chords to whatever crappy Marty Haugen song they are accompanying. If Jimi Hendrix could play his guitar with his teeth and behind his back, kneeling while playing guitar is just dead simple.  This especially goes for vocalists who don't even have the instrument excuse.
Now I don't want to be just ranting at choir members who after all are volunteering to help provide sacred music (giving the benefit of the doubt here) for the Mass.  Part of the problem is the example of how these choir areas have come to be constructed.  When no kneelers are provided this teaches them that they are exempt from kneeling. It just has become common and  is seen as accepted behavior.  I seriously doubt they are purposely violating the norm.
Now even a rant deserves caveats and certainly those that are unable to kneel due to physical condition are exempt.  Maybe just maybe all the choirs I have seen in my diocese that do this are made up totally of people with bad knees.
This reminds me of a related rant.  The faux-kneel where some just kind of lean forward instead of actually kneeling.  This also is very common, but again maybe I am attending Masses made up of people with bad knees.  If so I should start contributing to the "Aid to the Church in Knees."
A bigger rant I aim for myself.  Here we have the absolute wonder of the Holy Sacrifice of the Mass and the joy of receiving Our Lord in his Body, Blood, Soul, and Divinity and yet here I am noticing that the choir is just standing there.  If only my blog posts could perfect the liturgical aspects of the world so that I might become less distracted (if possible).