Richard Clarke hot off the success of his new book, 60
Minutes interview, and testimony to the 9/11 commission has come out with
an even newer book. Clarke has the amazing ability to know what people are
really thinking by their facial expressions.
He knew what the Presidents opinions were on possible Iraq involvement because
he describes "It was a serious look." When talking to Condoleezza Rice he wrote
in his book "As I briefed Rice
on al-Qa'eda, her facial expression gave me the impression that she had never
heard of the term before …"
Since the first book has come out many people have asked
him "Can I also learn how to read facial expressions of those I work for?" Realizing
that not
all people were able to do this he has decided to enlighten all
of
us through his new how-to book "Facial The Nation: Detecting Truth Through
Facial Expressions."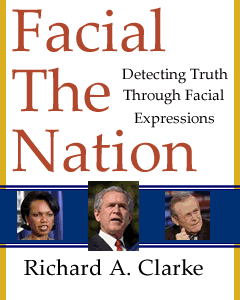 Here are some excerpted examples from the new book.
By the concentration and tilt of his face you can tell that he is thinking
about bombing Iraq for his Daddy.
The sharp expression and rounded mouth proves
that he was not thinking about combating terrorism in the months before
9/11.
This expression is a dead-giveaway of "Heck with bin Laden, I am after
Saddam"

The serious expression hides a total lack of knowledge. Looking closely
you can see she is thinking about playing the piano with no concerns about
terrorist threats.
This is the classic "How can I avoid testifying to keep
them from finding that I screwed up?
"I hear nothing, I wil not listen to my more
knowledgeable advisors but will demote them instead"

The expression along with the closed fist shows he is thinking.
"I'll whack any reporter who asks me another stupid question.
"We are coming after you Saddam. I have a score
to settle from the last time around" The clenched lips proves that getting
bin Laden
was not a priority.
Vice President Cheney expression is very easy to decipher. "Halliburton,
Halliburton, Halliburton, Halliburton, Halliburton, Halliburton, Halliburton "
Using Clarke's proven techniques we can deduce the following:
This one is easy but it can't be repeated without
the FCC fining me.
The slid down glasses and the dowdy chin proves Clarke is thinking: "15 minutes of fame. Ha. I am going to milk every last second and penny I can."