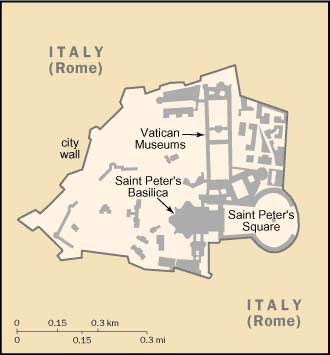 VATICAN CITY — A top Vatican official on Tuesday denounced a wall around the Vatican as "inhumane," and compared it to the Cold War-era Berlin Wall.
Cardinal Renato Martino, who heads the Holy See's office concerned with migrant and itinerant peoples, urged the Pope to allow more vistors to enter legally.
"I must note, unfortunately, that in a world which greeted with joy the fall of the Berlin Wall, others are being erected between neighborhood and neighborhood, city and city, nation and nation," he said at a news conference to present Pope Benedict XVI's annual message about migrants.
"The Leonine Wall was originally built to keep out Muslims who were unfairly described as raiders at the time when they were only doing raiding jobs that Romans wouldn't do. Even if you build a 20 foot wall somebody will just come along with a 21 foot ladder. If you watch Tom Cruise in Mission Impossible 3 you see him easily scaling the wall and gaining access."
Cardino Martino also condemned a recent move by the Vatican Museum to limit tour groups until 10, he favors and open admission policy where undocumented tourists can visit 24 hours a day.
Unfortunately here is what Cardino Martino actually condemned.