The trend in recent years has been to have women's ordination ceremonies at sea. Until now these ceremonies have been low-key on smaller boats such as in the following example.
While this option might be fine for some, why not go for the full extravaganza. We at Princess Priestess Cruise Lines are here to fill that niche and provide you with a quality and relaxing ordination experience. In fact send in your entries now for our priestess sweepstakes!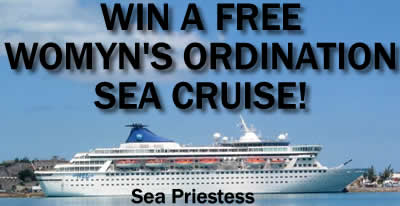 Yes you can win a seven day and seven night cruise on our latest beautiful addition the Sea Priestess. No more cheap river boats moored on the Danube River between Germany and Austria like the seven women ordained in June of 2002 or like the latest example in international waters between the Ontario and United States border. Do it with dash and panache with one of our custom packages.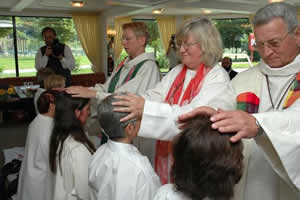 With either our priestly or episcopal women's ordination packages you have your choice between a "women bishop" or your choice of a male bishop from a schismatic sect such as the Old Catholic Church. Your ordination will be videotaped from our crew documentary cameraman so that you can share the joy of your ordination with friends and others over and over again. Check out the colorful stoles worn by some our crew bishops! Our specially trained crew knows how to do it right and no one will bring up Ordinatio Sacerdotalis while your with us.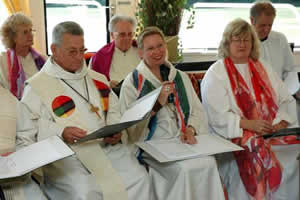 After your ordination relax and join into our karaoke party and sing songs such as On Eagles Wings, Ashes, and Faith of our Mothers to your hearts delights. We also provide a free snack bar with crackers and kool aid.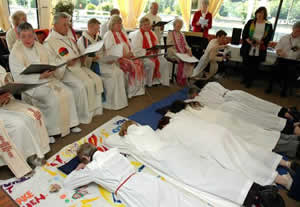 Ordinations can be really long and tiring so we provide special mattresses made out of felt banners with those syrupy messages you learned and loved in 1970's Catholic schools. Here are some recently ordained women enjoying their nap time.
After a restful nap come to our chapel and celebrate your first Mass and select from a range of stoles from simple white to color coordinated stoles, shoes, and handbags.
And to make your ordination experience complete we will include a framed excommunication letter from the Bishop of your diocese at no extra cost! So why wait? Act now, after all Pope Benedict XVI isn't going to change Scripture, Apostolic tradition, and 2000 years of constant teaching just for you anytime soon. Nothing to lose but to enjoy your very own ordination cruise with memories and keepsakes for years to come. Instead of being a stowaway you will be a stole-away from becoming a priestess. Instead of the Holy See be on the Holy Sea on the Bark of Petrina.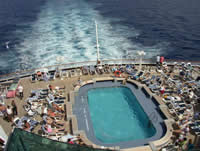 But that is not all! Check out our Olympic size baptism pool! Nothing is like a full immersion baptism off a diving board. Start with your first sacraments in style. We at Priestess Cruise Lines will do everything to make your ordination cruise memorable and fun. So call now while it is still summer for our latest priestess cruise package.
* Hat tip to RC at Catholic Light for suggesting something along this line to me.