Following up the tip Dawn Eden gave me earlier this week on the Planned Parenthood iPod giveaway she gave me another heads up on another offer. This time it is Denver's Planned Parenthood offer where if you refer someone to their clinic and they use the card you gave them you get two free movie passes. Moloch would be proud of such an offer.
# Give Tell-A-Friend cards to any friends who don't go to Planned Parenthood;
# When they come in for an appointment – and turn in your card – we will mail you two FREE movie passes*, and your friend will receive $10.00 off their visit
Tell-A-Friend about Planned Parenthood and enjoy the movies on us!
Though Planned Parenthood and much of Hollywood does seem like a match made in the opposite direction of Heaven. In fact don't be surprised if you see these soon.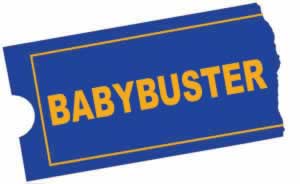 Introducing Babybuster Video from the same people who satisfy your contraception and abortion needs. We will now also satisfy your entertainment needs by giving you the movies that confirm your lifestyle choice. When it comes to choice we want to be your first choice for movies. Our special culture of death collection includes titles that have been handpicked by the employees of our clinics. We look through hundreds of movies to cull for the best titles with gratuitous sex and other positive self-affirming messages.
We screen out movies with anti-choice messages so you don't have to worry about having your correct viewpoint challenged. Luckily Hollywood makes that job very easy for us and we rarely are forced not to carry a title because of this. Though you might be surprised at some of the messages portrayed in what seem to be innocuous movies. For example "It's a Wonderful Life" appears on the surface to be a fine movie. In this movie George Bailey's wish to have never been born is granted and he sees the effect of his absence on the world. This idea is very dangerous concept and is absolute rubbish; after all 46,000,000 potential people never being born has had no effect whatsoever on the world – take our word for that. Though there are some positive aspects to the move. For example George Bailey by persisting in having a large family is forced to live in a run down old house that is falling apart and that nobody else had lived in for years. This is where our choice experts shine by highlighting troublesome plot lines and subliminal anti-choice messages. We inform you of both problems and positive aspects of our movies.
Unsure of what movie to rent? Our 24 hour movie counselors will help guide you to the right choice. And that choice always points towards one of Babybuster Video services. No conflict of interest we only wants what's right for you and can we help it if our suggestions are also always right for our bottom line?
Not only do we have a great selection of movies but our prices are the lowest in the business. How do we do it? Simple, not only our we government funded which helps keep our prices low, but we get a sweetheart deal on our movie titles just like how we got a special deal on Plan B morning after pills from Barr Pharmaceuticals at bargain-basement prices.
Sound too good to be true? You think there has to be a catch somewhere? Now you might think there is a catch in the membership where you end up getting ripped off. But you would be wrong. We offer nine month memberships and you can terminate it at anytime just by coming into one of our clinics or stores. Are you underage and can't sign up with other movie rental companies? No problem not only can you sign up but we will keep your membership confidential from your parents.
Sign up now and get a free rental of our selection of the month.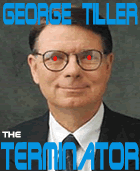 Move aside Arnold Schwarzenegger. Dr. George Tiller is in town and he does more real murder and mayhem in one day in his clinic than Arnold has done in his whole movie career. Watch this choice superhero who has performed thousands of abortion fight against evil anti-choicer from the future who send robotic sidewalk counselors back in time to try to persuade women from their right to abortion. The future is very scary since abortion has been outlawed and Dr. Tiller fights to change this horrible possible future from occurring. This movie is rated R since some of these robotic sidewalk counselors actually penetrate the buffer zone around a clinic and in a morally violent scene persuade a women from her right to abortion.
Here are just some example of the movies we carry:
Death becomes her.
Cider House Rules
Vera Drake
Die Hard
Murder Most Foul
Bringing Up Fetus
Mr. Smith Goes to Washington to work for EMILY's list.
The Abortionist Always Rings Twice
D.O.A.
A View To A Kill
The Killers
Three Days of the Condom
Natural Born Killers
Anatomy of a Murder
And Then There Were None
Aborting the Birth of a Nation
So come into our stores in clinics at many convenient locations. While getting your movies why not stock up on popcorn and other condiments including condoms. Snacks and safe-sex supplies are available right by the front counter for your convenience!
Babybuster Video the choice of pro-choicers!