With the rumor that Pope Francis plans to remove Cardinal Raymond Burke from head of the Apostolic Signatura and and given a non-curial assignment as patron of the Order of Malta traditionalist are up-in-arms. Feeling that no doubt this outspoken cardinal is being punished for his support of the Traditional Latin Mass. Rod Traud the blogger at Novus Ordo Crimes posted:
The only possible explanation of this action is that it is just another spit-in-the-eye at "self-absorbed promethean neopelagianism." The Pope is a darling of the media because he is willing to throw traditionalist under the bus and abandon Mother Church for popular acclaim.

Instead of just sitting back and watching the purge of the Church of good people like Cardinal Burke we need to take action and to let our displeasure known. We can not just continually be kicked to the curb while the wildest liturgical abuses get no attention at all.

So this Sunday on the Twenty-Fifth Sunday in Ordinary Time I strongly urge that all those who love the liturgy and the faith go to a Novus Ordo Mass in your diocese and protest this action by wearing a dark hood with only the eyes cut out. I realize going to a regular parish Mass will be a great suffering, but we must be willing to sacrifice and do even that.

The black hood, named after the Cardinal, symbolizes.

Being silenced by the Church
We are kept in the dark and not consulted
That our voices are not allowed to be heard
Mourning for the loss of the good Cardinal in his role defending the Church canonically.

So this Sunday protest silently with your hoods in solidarity with all the true defenders of the faith!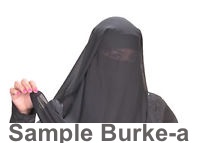 For further news see Cardinal Burke Demoted To Chaplain Of Akron RubberDucks Minor League Baseball Team.