I've been working on a story idea for television and I am looking for a capable screenwriter who can take my idea and bring it to life.
Here is my synopsis.   Walter Write is lapsed-Catholic who has been cooking meth taking advantage of his knowledge in chemistry.   His conscience has been tamed and the amount of damage his product brings to the world does not concern him.  He is only in it for the money and the prestige of being a high quality meth cook.  He is  diagnosed with Stage IIIA lung cancer and as he becomes aware of his mortality he comes to confront the choices he has made and the man he becomes.  In his journey towards truth he comes in contact with a young Catholic seminarian Jessie Redman who begins to evangelize him.   His conversion starts to bring him full circle and starts to wonder if he is being called to the priesthood as his love of the God and the Eucharist grows in leaps and bounds.
The name of the series: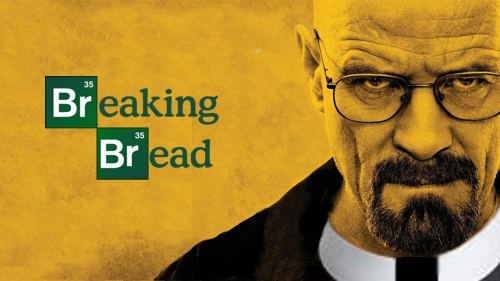 * For those unfamiliar with the show "Breaking Bad", here is the Wikipedia entry.