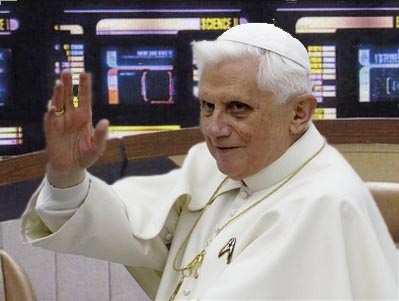 As a Trekkie the Pope has some work to do
on his "Live long and prosper" hand gesture.
Well as John C. Write wrote "If Vulcans
had a church, they'd be Catholics." Though they might say instead "Live
long and proper and die in a state of grace.
Hat Tip to the
Shrine of the Holy Wrapping for finding the original image
and wanting a Star Trek theme to go with it.
Plus maybe this explains the
pulpit, lectern, and chair design for the Pope's visit to America.
Update: The Shrine of the Holy Whapping has a bunch of Pope Benedict Star Trek pictures.