Looking around your parish do you have homilies that could have been copied out of Ms. Magazine? Are your chances of hearing the words Father, Son, and Holy Spirit less than that of being hit directly by a metorite? Have architects transformed your church so much that you now are tempted to genuflect when you enter a gymnasium? Could your parish Religious Educator have possibly been burned at the stake as a heritic in a previous century? Are you more likely to have a leotard Sunday instead of Laetare Sunday? If you answered in the affirmative to any of these questions then who are you going to call?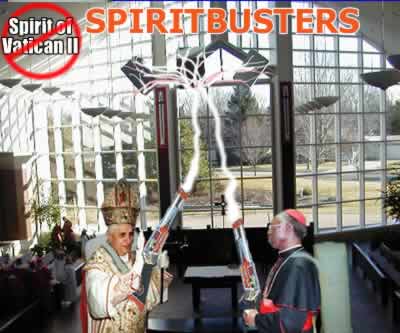 Yes Spirtbusters! Here are Cardinals Ratzinger and Arinze battling something much more fierce than Gozar or the Stay Puft Marshmallow Man, yes it is a sound system broadcasting syrupy and theologically confused dreck from the Gather hymnal. Don't worry, they did survive the encounter using special Cannon Law Cannons they deposessed the sound system and contained the Spirit of Vatican II within a special containment system guaranteed to withstand modernism and constant dialoging. So faster than Cardinal Ratzinger can say "proportionate reasons" or Cardinal Arinze can deny a Rainbow Sash wearer from receiving Holy Communion the Spirit of Vatican II can be demolished.
Cue Ray Parker Jr and theme..
Spiritbusters…
If there's somethin' strange in your parish church
Who ya gonna call (spiritbusters)
If the lyrics are wierd and it don't sound good
Who ya gonna call (spiritbusters)
I ain't afraid a no post-modernist
I ain't afraid a no post-modernist
In the homily you can't believe what was said
Who can you call (spiritbusters)
Where sound theology surely has fled
Oh who ya gonna call (spiritbusters)
I ain't afraid a no post-modernist
I ain't afraid a no post-modernist
Who ya gonna call (spiritbusters)
Contact the Vatican or pick up the phone
An call (spiritbusters)
I ain't afraid a no post-modernist
I hear it likes labyrinths
I ain't afraid a no post-modernist
Who you gonna call (spiritbusters)
Mm…if you've had a dose
Of inclusive degendered language
You better call spiritbusters
Orthodoxy makes me feel good
I ain't afraid a no post-modernist
Don't get caught alone oh no…spiritbuster
When he comes through your door
Shoutin' he want to dialog some more
I think you better call spiritbusters
Ooh… who you gonna call (spiritbusters)
Who you gonna call (spiritbusters)
Ah, I think you better call (spiritbusters)