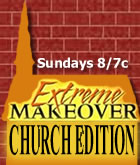 From the producers of the hit Trading Worship Spaces comes an all new ecclesial reality series Extreme Makeover: Church Edition. Put together a Church renovated sometime since or during the sixties, a deserving parish, and our team of experts. Our special team consists of Duncan G. Stroik and others of the new wave of classical architects, liturgical experts who actually follow Church documents, artisans in hand embroidered liturgical vestments, and Choir directors specializing in Gregorian chant.
Each episode of Extreme Makeover: Church Edition is self-contained and features a race against the liturgical clock on a project that would normally take months or years to fully achieve. We work with the local ordinary to ensure the parish staff is pulled a way for a week for a retreat while we go to work to totally surprise them in time for the following Sunday's Vigil Mass. Our team of experts and hundreds of artisans in just six days renovate a Church and its liturgy. From the Nave to the Sacristy we pore over every detail to bring back both beauty to the Church and transcendence to the liturgy.
The lives of the lucky parish are changed forever as they find that there is actually more to liturgical music than modern ditties such as "Here I am Lord" and other its all about me hymns. When they find that texts for parts of the liturgy are not some created off-the-cuff or improvised but are something that unites the whole Church in prayer. Parishioners accustomed to the modern iconoclasm and stripped Churches are shocked by how they respond to beauty and just how conductive it is to both praising and worshiping God in the Mass. Priests are surprised to find that transcendence trumps relevance in both attracting the faithful and helping people to pray.
Our experts can deal with any challenge including a parish prone to extemporaneous liturgies or even a deVosko-ization of a wreckovated parish. No challenge is too much for our experts and artisans to overcome!
| | |
| --- | --- |
| | The host of Extreme Makeover: Church Edition is Francis Cardinal Arinze. Yes straight to you from the Congregation for Divine Worship and the Discipline of the Sacraments he's the perfect prefect and host to introduce you each week to our latest Extreme Makeover and keep our team of experts on track and the liturgy divine! We would say he is the host with the most, but Jesus in the Eucharist fits that bill. |
Episode Preview
To give you an example of a sample episode we will give you an actual example of what Extreme Makeover: Church Edition can do in just six days! First hundreds of building contractors and artisans in specialties such as stained glass work around the clock to transform your "worship space" into a place actually conductive to a new worship pace.
| | |
| --- | --- |
| | |
| Before | After |
For you skeptics out there yes this is an actual transformation and reverses the trend where the before picture looked better than the after picture. But we don't stop there we also worked non-stop to retrain the choir.
| | |
| --- | --- |
| | |
| Before | After |
When the week is almost up and the parish staff returns they are in for a shock! We work with them to condition them to the new surrounding and the concept of beauty. Our crash course on the GIRM and liturgical documents transform their outlook. Some priests are less amendable and so we specially outfit their stoles with wires to shock them whenever they stray from the approved texts and attempt to leave the Sanctuary to shake hands with everybody within 500 feet. We also give them a crash course in homiletics by introducing them to both Patristics and a lifetime subscription to Homiletics and Pastoral Review.
Here is one of our most extreme makeovers!
| | |
| --- | --- |
| | |
| Before | After |
So if you think you have a deserving parish why not submit your parish for an Extreme Makeover since even the Pope is doing it. So enter now and you never know – your parish could be on Extreme Makeover: Church Edition.
Disclaimer: Not responsible for liturgists who go into a state of shock mumbling "Where's my copy of Environment and Art in Catholic Worship" or people surprised to actually find the tabernacle in the center of the Church. Some people may need additional training who have had their tastes ruined by years of Marty Haugen and David Haas to accustom them to the fact that sacred music does not need to be sappy. Though we will provide them with a set of CD's to help to gradually wean them off of standard OCP/GIA fare.
* If you are a member of Sacred Heart Catherdral in Rochester, New York we have already recieved thousands of requests. Extreme Makeover: Church Edition works fully with the local ordinary and will not procede without permission which is unlikely to occur in this case.