I first noticed the story about UNICEF-Belgiums use of Smurfs in a public service announcement in regards to war with a Smurf village being fire bombed at Dappled Things. He said if you had a dark sense of humor you would want to see it. I guess I qualify as having a dark sense of humor because not only did I enjoy it I secretly wished I could see the final scene in Braveheart reenacted with Barney. But maybe UNICEF has a good idea in public service announcements using Smurfs.
Here is one I would like to see.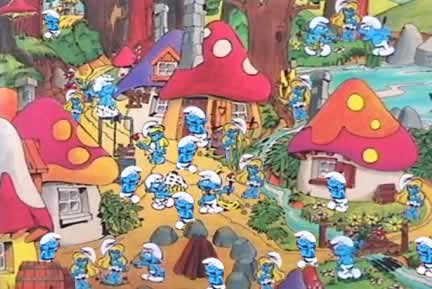 The residents of Smurf village started to find that their comfy village was getting a bit over crowded, but were unable to start new villages because of the threat of the sorcerer Gargamel. Smurfs were complaining because it was too Smurfin crowded. Papa Smurf after studying the success of other Communist regimes decided to implement a new Smurf control program allowing only one Smurf per family.
At first the Smurfs complained about this new policy. But after Papa Smurf sent Smurf Troopers to arrest dissident Smurfs and to both force abortions and forced sterilization programs.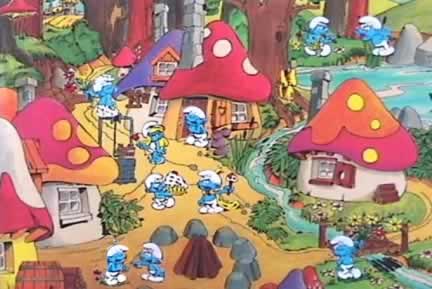 Now Smurf Village is much less crowded, but now there is a new problem. Years of the One Smurf Policy has resulted in Smurf parents preferring Smurf males over Smurf females. After all when you are constantly under attack by a very large wizard you need a male population to constantly fight and trick him. Couples used the latest Smurf selection tools along with ultrasound to ensure their pick. Unwanted female Smurfs were occasionally drowned in a bucket of water in hospitals when these techniques failed.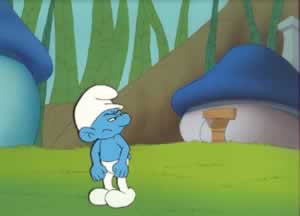 Smurf roughs now roam the village looking for trouble. With no Smurf females to date they take out their aggression Smurfin' this and Smurfin' that. Smurfs have always suffered with blue balls but now the problem has no remedy. So they now spend their time writing obscene graffiti on their mushroom houses and forming gangs of Smurf toughs menacing the population.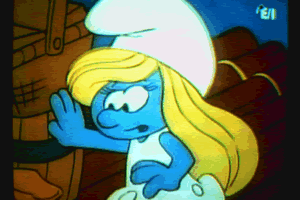 Smurfette the lone female Smurf now lives in constant fear fending off male Smurfs advances.
UNICEF urges you to work to stop one child policies now. Don't let what happened in Smurf Village happen in your own. Do it for the children, don't let them get forcibly aborted. Please send in your donations now before it is too late.