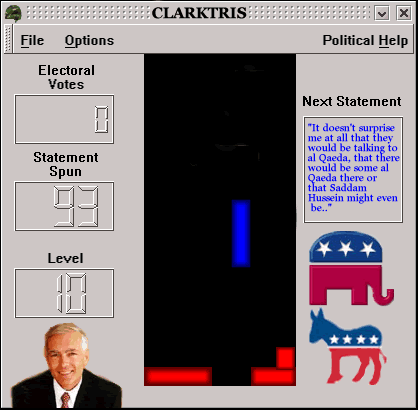 First Jesterware brought you Deanings which brought you the game play of Lemmings to the Dean Campaign.
Now Jesterware brings you the next in the series of political arcade action gaming. General Wesley Clark's campaign combined with the classic Tetris to give you Clarktris.
The objective is to rectify statements made a long time ago in his more conservative vigor (nine months ago) with the present statements of his campaign. Two colors of blocks drop down from the screen and you maneuver them to cancel each other out. Alternatively Red and Blue blocks drop that are tied to specific statements. The statement displayed on the right goes with the current block and you must manipulate it's block to come in contact with and to eliminate the apparent differences.
Using your mouse or the keyboard you apply spin control to move the block-statements 360 degrees to land on and cancel out the previous block-statements. If you fail to do so the apparent consistency keep piling up resulting in Campaign Over.
For example, simply place the anti-Iraq war statements onto the pro-Iraq war statements. Connect the Kosovo is important to national security with the Iraq has no affect on national security block-comments. This is easier said then done. Already one campaign head has fallen to the pressure of reconciling irreconcilable statements.
As the skill level increases so do the difficulty of statements. His past contrary statements keep popping out of the woodwork and you must act quickly before they are picked up by the internet media.
Exciting and challenging game-play
Includes Argyle Sweater Mode – to appeal to women gamers.
DNC Chairman Terry McAuliffe and Clinton Backer Mode – Only for the foolhardy, this is the kiss of death for political gaming. Difficult for even the most experienced at block spin-control
I will keep you safe mode – guaranteed no terrorists attacks during game-play.
Only candidate to negotiate end to the war Mode – Also known as no one cares mode.
Madonna support mode -add's nothing to game play