The late Father Richard Neuhaus described the sexual abuse crisis as the "Long Lent of 2002".
Still waiting for Easter.
The seemingly never ending stories continue apace. I guess I was naive enough to think that there were some lessons learned. If there were lessons learned they were the wrong lessons. I was not naive enough to think that coverups and other forms of hiding such problems would go away. I just did not believe that the scale of this would seem to remain the same.
Lay woman's saga illustrates clerical sexual abuse of adults illustrates that moving an abusive priest to a different parish after a short sabbatical continues on. The whole McCarrick saga shows how diocese pretty much used hush money in the form of "confidentiality agreements".
Our charitable credibility is strained to the breaking point when Cardinals and Bishops who worked with McCarrick are doing their imitations of Captain Renault from Casablanca. This is especially strained considering the "open secret" this seemed to be. I certainly remember stories concerning this going back to at least 2005. Still I can understand not giving them credence to some extent without more proof. I was certainly not a fan of McCarrick at the time and the deception he tried to pull with the letter given to him by then-Cardinal Ratzinger. Still I did not just want to believe this as a justification of confirmation bias.
Our fallen nature, scripture, history, and common sense illustrates to us to not be surprised by the goats among the sheep. It is the enabler of the goats that mostly draw my ire. My skepticism is such that I doubt that anything will happen to McCarrick's enablers. The Sergeant Schultz's proclaiming "I see nothing". I can even believe that indeed some of them discounted the rumors as gossip or motivated by political considerations. Much harder to believe that they didn't even know of the open secret. I would love to have my skepticism regarding this proven wrong and that figuratively heads would fall. My head would bow if such happened.
I started blogging in 2002 as the scandal first drew much attention. It has never been something that had challenged my then-"new born faith" or subsequent to that.
Simon Peter answered him, "Lord, to whom shall we go? You have the words of eternal life; (Jn 6:68)
I have read enough Church history to not be surprised by corruption in the Church. Mostly I am thankful for the grace I have received to know that I know the truth of the faith. At the same time I know that this is not just some intellectual belief, but a grace given. I can understand and have sympathy for those for of whom the scandal is indeed a stumbling block. The story I linked to above is horrific and yet the faith of that women was not abated. That a story of deepest corruption and sacrileges acts could still be a story of perseverance in faith.
Back in 2004 I suggested tongue-and-cheek some suggested religious apparel. One being substituting a mitre for a ceremonial millstone to remind them of:
"It would be better for him if a millstone were hung round his neck and he were cast into the sea, than that he should cause one of these little ones to sin." –Luke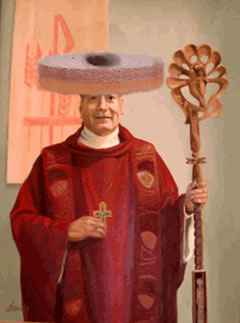 Now I wonder if this should leave the realm of parody into reality.
That post also offered millstone-inspired apparel for the laity.
"We are not baptized into the hierarchy; do not receive the Cardinals sacramentally; will not spend an eternity in the beatific vision of the pope. Christ is the point." (Frank Sheed)