It would be better for him if a millstone were hung round his neck and he were cast into the sea, than that he should cause one of these little ones to sin. –Luke 17:2
Thinking about the above passage and comparing that to the amount of error being taught by people in the Church to the faithful, it makes me wonder if the first thing St. Peter does at the pearly gates is to measure some people's heads for a millstone. I use to think it was a false humility when some priests tried to avoid the Bishop's hat because of the massive responsibility involved. I no longer believe that to be true and I have empathy for those who are in charge of so many souls. It must be a strain for faithful priests in charge of a parish. It is hard to imagine the overwhelming responsibility of those faithful Bishops.
On the other hand I have no sympathy for those lay and clerical that teach things other than what is part of the Catholic faith or teach what is directly in opposition to it. Retreat centers that have retreated from the faith and Catholic schools where dogma is a dirty word. In many cases you could find the Catholic Catechism in more Protestant book stores than in the offices of Directors of Religious Education.
I was thinking that maybe we could use some items of apparel that could help to remind us of our responsibilities. For who much is given, much is expected. So the passage at the top gave me the idea of offering a new line of religious apparel with a little more substance than a WWJD bracelet.
First in my new line is a Ceremonial Millstone for Bishops. A less ornate millstone can be worn for other occasions.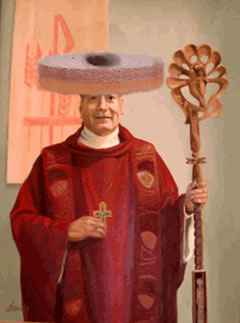 The weight of a millstone should be a constant reminder to the episcopacy of their heavy responsibility for the care of souls.
Now I don't put all the emphasis on just the ministerial priesthood. I am a husband and father and have serious responsibilities in my domestic church. Thus I will also have a line of millstones for lay men.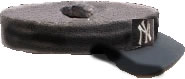 Here is one for a New York Yankees fan. Myself I don't follow baseball and I would make a millstone for the football team that I follow, yet I figure that a Buffalo Bills millstone is just plain overkill. Just being a fan of them is penance enough.
For the lay women I also include a line of millstones with matching accessories. After all you can't wear a millstone with just any old thing.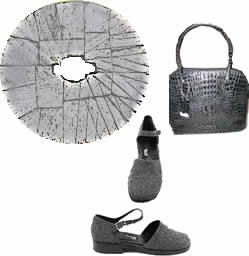 Another verse that causes me concern as a husband is:
Husbands, love your wives, as Christ loved the church and gave himself up for her, that he might sanctify her, having cleansed her by the washing of water with the word, that he might present the church to himself in splendor, without spot or wrinkle or any such thing, that she might be holy and without blemish. –Ephesians 5:25
So I have also come with another product for husbands worried about such a hefty responsibility.