I keep looking for a no fuss Rosary. I like the beaded ones with metal links, but I want to try to pray the Rosary, not spend time keeping it repair. The last Rosary I bought was a knotted Rosary to prevent this problem, but recently the wooden Crucifix on it broke. Yes I enjoy a certain conceit in wearing out Rosaries. Which sucks that I can be conceited about this.
So this time I turned to Rugged Rosaries which I had previously run across.
Most of the Rosaries they sell use military grade paracord which is "Durable, waterproof, and very difficult to break." They have a variety of colors and styles. When ordering you can choose to add medals to the Rosary. I choose to add the Divine Mercy and St Benedict Medals.
The model of Rosary I choose was the Catholic Gentleman Rosary – Be a Man. Be a Saint.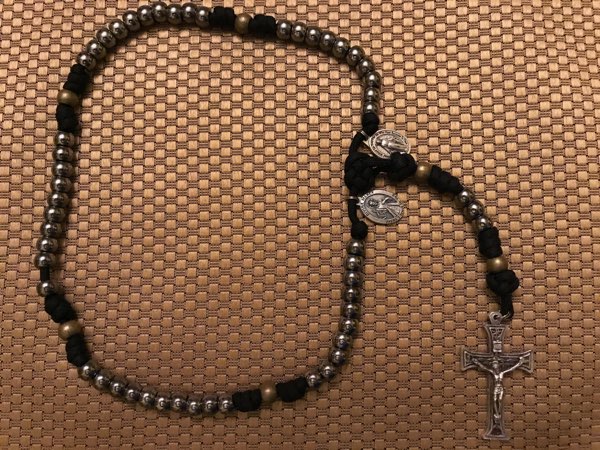 So using this Rosary over the last week I found it was exactly what I wanted.
During the work day I take two prayer walks. One to pray the Rosary and the other the Divine Mercy chaplet at 3:00 PM (when I am able). What I enjoy the most about this Rosary beyond the sturdiness and build quality is the heft of it. It has a nice weight too it. Plus I can easily hold it one handed going through the beads as I am walking and my arms are swinging to some extent. Just love the aesthetic feel of it in my hands. But mostly I don't have to think about it.
Combining some exercise with prayer works for me. When I first started to take daily walks I was usually listening to audiobooks and podcasts. Usually would pray the Rosary before going to bed. Often though I would fall asleep while praying it. Yes I heard the bit about your Guardian Angel finishing a Rosary for you when you fell asleep. Still it finally dawned on me to combine the walks with praying. I found for myself it helps me focus better and that from time to time prayer actually breaks through the distractions.