PARIS — France introduced a new terrorism alert system yesterday, with four
color-coded levels to make the national warning plan more flexible and understandable.
Until now, France had only two grades of alert for its terror warning system,
simple and reinforced. The new alert colors beginning with the least serious
are yellow, red, orange and scarlet.
Well they should have come to me. I would have designed them a French terrorism
alert system for free. President Jacques Chirac email me and I will send this
to you since I think various shades of yellow is more appropriate.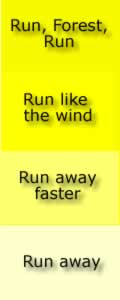 French Alert System