Recently the l'Osservatore Romano reported that an Italian man hung up the phone on Pope Francis twice thinking he was being pranked, but later apologised to him for his error.
Fortunately there is an app for that.
Description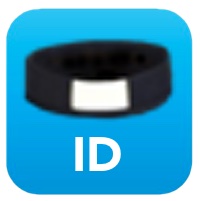 What if you received a phone call from the Pope and called him a nasty name for trying to prank you. Perhaps answering and saying "Yeah and I'm the Archbishop of Canterbury." While those outside the faith think Catholics have too many hangups, you don't want to hang up on the Holy Father. Pope Francis' tendency to call people around the world means that there is a small possibility he could call you. Perhaps this might catch on with bishops and priests and you would like to verify the authenticity of the caller.
If so then Collar Id is the perfect app for you as it detects if the caller has Holy Orders along with their position within the Church.
No false positives: so-called women priests, anglicans, lutherans, etc are rejected.
Provides hints of proper addresses depending on level of Holy Orders such as Your Excellency" for bishops, Your Eminence for Cardinals, and Your Holiness for the Pope.
Authentic recording technology automatically records the conversation so you can play back the call to friends and family who don't believe your bishop or the Pope called you.
Share that you got a phone call on social media via the sharing menu.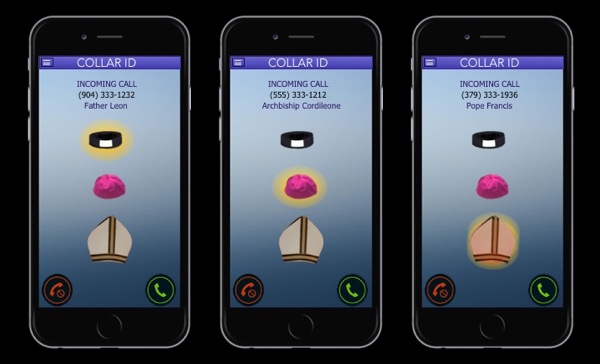 When someone with Holy Orders calls the app detect it:
Flashes the appropriate icon.
Shows phone number and name.
For bishops – swipe left to see information on their date of ordination, predecessors, Titular sees, along with other information pulled from catholic-hierarchy.org.
For priests and deacons – swipe left to go to the parish website for Mass times and available times for confession. Note: We are not responsible for bad design of parish sites.
In-app purchases
Stole Pack: Customize Deacon detection with a variety of stoles matching the liturgical season.
Hat Pack: A selection hats including Biretta, Tricorne, Canoa, Zuchetto, and Mitre.
Pope Pack: Upgrade from the default Pope Francis mitre to fancier mitre from throughout history.
Traditional Pope Pack: For all your papal tiara and triple crown needs.
Ring Tones: Since the free ring tones provides with this app all come from the Gather hymnal, you will want to upgraded right away for actual hymns.
Papal Ring Tones. Papal ring tones must be replaced at the death or resignation of a pope since they are automatically deleted by the Camerlengo.
Heraldry Pack: Show the Coat of Arms of calling bishops.
What's new in version 1.01
Added a laicization and excommunication blacklist.
Love our app, consider leaving a review on the app store.
Available on iOS and coming soon to Android.
Windows Phone when the Gates of Hell prevails against the Church.