One of the gems I got for review late last year was A Year With the Saints: Daily Meditations With the Holy Ones of God.
by Paul Thigpen. In the past when I got a book in this format I would just read through all the daily meditations to see if everything was good. I tried to do that with this book but quickly found that I did not just want to read through this book. I wanted to use it as intended as daily meditations. So that is what I did and I think I will just put this book on annual replay since I love everything about it. What makes this book standout is the wide and varied source of quotations from the saints. Here and there you will find something familiar from a familiar saint. Still I found do much wealth in the sources he gathered.
The format is a thematic title followed by a quick introduction to the text regarding the saint or the context the the text was written for. This is followed by a short reflection on the text and a closing prayer. Often I find in books of this format that the short reflection wasn't all that worthwhile. That is hardly the case here as they really do spur spiritual reflection. So I pretty much love everything about this book of meditations.
So when I found out he had a new book coming out I was more than a bit excited. Manual for Spiritual Warfare
. It seems book subtitles seem to be getting longer and longer and can take longer to read than the book. So it was nice to have a book where the title stands for itself.
As the introduction spells out:
Sacred Scripture speaks of our ongoing battles with the world, the flesh, and the Devil (see Jas 4:1–7). This book focuses on our struggle with the last of those three adversaries …
He gives his reasons for concentrating on this aspect based on disbelief in Satan's existence, lack of knowledge regarding resources available, and that even our struggles with the flesh and the world can be influenced by the Devil's interference. This is a book of considerable balance and prudence. There are plenty of caveats for a book of this type and Paul Thigpen takes care to make all the proper distinctions. One of the important distinction is regarding aspects that are reserved for the priestly role and what the laity is able to do. These distinctions are reinforced throughout the book. This manual avoids the Saturday Night Live's Church Lady cry of "Could it be SATAN?" while specifying the reality of spiritual warfare and demonic influence.
The first part of the book is a primer on the scriptural and theological aspects of spiritual warfare. The reality and urgency of what are response should be is spelled out as we really do have a mortal enemy who wants to seek our destruction. While we are alive there can never be a ceasefire regarding spiritual warfare and spiritual pacifism is just surrender of our soul. I really enjoyed this whole section of the book as it lays out the theology reinforced with a solid bedrock of scriptural references.
The second part of the book broken up into multiple sections providing the tools and the weapons for spiritual warfare.
Church teaching about spiritual warfare from Catechisms, Councils, and Papal documents.
Biblical reference that provides a glossary, biblical history involving the Devil and Demons, and related scriptural verses.
Wisdom from the saints on spiritual warfare. Like his saint's meditation book I totally loved this section for the wide range of pertinent quotes. This is a part of the book I will want to revisit from time to time.
The last section includes specific prayers, devotions, and hymns related to spiritual warfare. This section is about a third of the book and is a great resource for prayer. Included in this are Rosary meditations for each mystery along with some very nicely written prayers from the author.
So this is surely all you need to be interested in this book. Yet there is one more aspect that makes this book even better. That this manual was published like an "old school" prayerbook meant to be kept at hand and well used. It is described as "Premium Ultrasoft with two-tone sewn binding, ribbon marker and gold edges." This is just beautifully made. I am pretty much converted over to only using ebooks and I did read this as a PDF, but I was totally delighted when I received this book in the mail.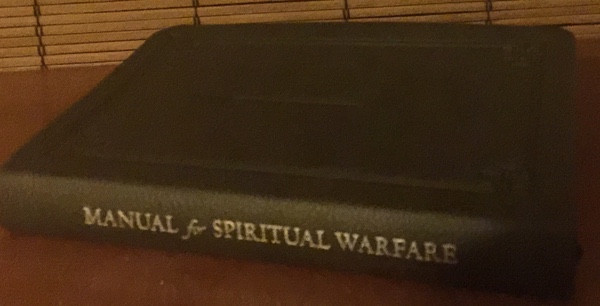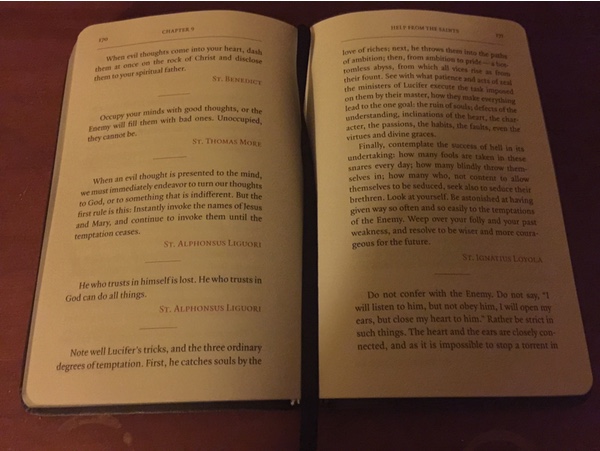 Here is a short interview with the author about this book,