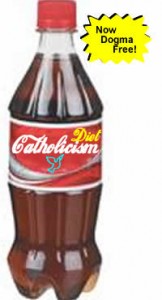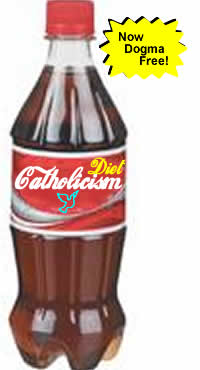 A reader pointed me to an article on the Huffington Post on the new English translation of the Mass.  As you would expect from this source it is unintentionally funny in being so mind-dumbing stupid.
Supposedly this was all done in the name of authenticity. If that were true, why not embrace the Jesus Seminar, a group of over one hundred of the world's foremost biblical scholars who have identified inaccuracies in the liturgy?
If we took our cues from the Jesus Seminar there would be no Mass at all. John Dominic Crossan a co-founder of the Jesus Seminar and an "ex" Catholic priest said that dogs ate Jesus' body. The Jesus Seminar's criteria was self-selecting in that Jesus only said what they wanted him to say an anything tied to the incarnation and his being the Messiah was obviously false. He also goes on to reference an article by Kathleen Kennedy Townsend. Yes he is really batting 500 in references to authentic Catholic sources.
Why not go back to the original language of the Bible — Hebrew and Greek? Why not reconcile with the Eastern Orthodox Church which also has a legitimate claim as the original denomination? Some Jesuit scholars are now questioning if this new translation is indeed more accurate, but no matter, they are usually ignored and frequently excommunicated for their clever use of facts and their crazy powers of reason.
Excommunicated Jesuits? Frequently excommunicated? I guess his idea of frequent is much wider scope than my own. Of hand I can think of but one in the last 20 years – Fr, Leonard Feeney S.J. who was excommunicated for his rigorist view on "Outside the Church there is no salvation." He was later reconciled with the Church. Somehow I don't think the author of the article was referring to Fr. Feeney. Or maybe he thinks that Fr. Reese being supposedly forced out as editor of America Magazine is within his definition of excommunication. I guess the author of this article will not be accused of the "clever use of facts and their crazy powers of reason".
The main thrust of the article is "Yes, that's it — the New Mass as New Coke." One of the dumbest analogies ever. Though from it I can think of a way that the analogy could be more correctly applied.
I would contend that the first translation of the Liturgy into English did indeed have some comparisons to new Coke. There are even some comparisons with the new order of Mass.
For one it was much more saccharine tasting than the product it replaced. It was not an organic development of Coke, but a flavor of Coke much closer to the competition – Pepsi.
It came out as a total replacement of classic Coke and upon its introduction the number of Coke drinkers was greatly reduced. Classic Coke was abrogated. Only later was Classic Coke reintroduced.
Now I could equally be guilty of a dumb analogy, but being a blogger I don't usually refrain from making dumb analogies. All analogies break down at some level and I don't want to infer I have the same distaste of New Coke with the Ordinary Form of the Mass. The analogy works better with the flawed implementation and experimentation that occurred. I do not use the term Novus Ordo with a sneer. So here goes:
Like New Coke the newer Mass and English translation resulted not in a greater appreciation, but a decline in reception. Mass attendance is way down, though of course there are many cultural components that also had their influences. New Coke was crafted to appeal to a wider audience and could have been called Contemporary Coke. The attempts by implementers of the Ordinary Form had the same though process – and a similar failure.
The Novus Ordo totally replaced the TLM, it was only later that the TLM was reintroduced.
New Coke continued to do quite well in Los Angeles. Hmm, I wonder if they had an annual Coke Education Conference with dancing girls?
The implementation of the Novus Ordo was much closer to the "P" competition. For New Coke it was Pepsi for "New Mass" it was Protestantism.
Okay I won't torture this analogy any farther, but go ahead with you own analogies in the comments.