Columbus' 1492 Pictures and CJ Entertainment have acquired the rights to the Anne Rice tome "Christ the Lord: Out of Egypt," which tells the story of a seven-year-old Jesus, who departs Egypt with his family to return home to Nazareth and discovers the truth about his birth, who he is, and his purpose in life.

Cyrus Nowrasteh will direct from a screenplay he penned with Betsy Nowrasteh. Columbus will produce along with Michael Barnathan and Mark Radcliffe through 1492 Pictures with Sean Lee, Patricia Chun and Keo Lee producing through CJ Entertainment.

Rice came to Nowrasteh first and asked if he would take on the project after seeing his film "The Stoning of Soraya M." After agreeing to write and direct the project, Nowrasteh brought it to Columbus and Marnathan at 1492.
Well maybe a humble director could pull it off.
"This film has the potential to be a cinematic classic, a picture that will appeal to all ages, all around the world," Columbus said. "I am proud to be part of this incredible production."
Well scratch the humble director part. Can Chris Columbus pull it off? Seems dubious, but as a pessimistic-optimist I'll be happy if he does and not surprised if he doesn't.
Having read the second of her two books on the life of Christ I was fairly impressed by what she accomplished despite some flaws. Jimmy Akin seemed to have felt the same way about the book the movie is based on. One of the difficulties of the books was presenting a first person perspective from the second person of the Holy Trinity. The film is unlikely to attempt this and it will be interesting to see if they can manage to present Jesus as being both fully human and God without lapsing into the number of related heresies.
Anne Rice's book tells the story starting from a seven year old Jesus and you have to wonder if the film will follow or attempt the story from Christ's birth. I wouldn't be surprised at that since Chris Columbus has done a number of movies that occurred around Christmas – Gremlins, Home Alone, Christmas with the Kranks, and Jingle All the Way. Hmm, maybe the last half of that list depresses me a bit – or a lot. Thought to be fair while I refuse to watch "Christmas with the Kranks", I have a B-movie fondness of "Jingle All the Way" in that it is so bad it is good.
He also directed "Young Sherlock Holmes" so will this film be called "Young Jesus"?
I know some Christians are going to freak out with a pairing of Vampire novelist Anne Rice and Harry Potter director Chris Columbus. Like I said I am in optimistic-pessimist mode about the project.
Though Chris Columbus doing a movie on the young Jesus could finally realize one of my parody ideas.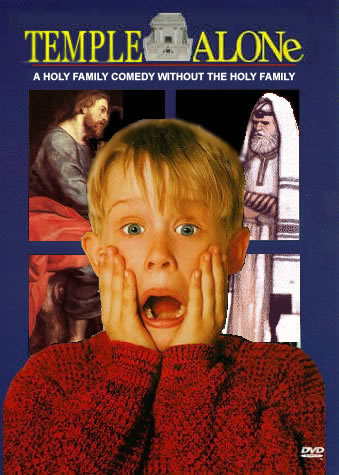 In this latest family movie Macaulay Culkin stars as the 12 year old Jesus
In a story based on the Gospel of Luke. At the end of Passover the boy
Jesus is accidentally left behind at the temple when, unaware of their
mistake, Joseph and Mary traveling in separate groups depart Jerusalem
for Nazareth. Forced to hold up in the Temple, Jesus uncovers a plot
by two bungling thieves disguised as Pharisees attempting to rob the
Temple's gold. You will shake with laughter as Jesus through his omnipresence
is always several steps ahead of them and sets traps to foil their plot.
Just as you think they are mortally wounded they are resurrected for
more fun. By day Jesus amazes the Pharisees with his wisdom, by night
he confounds the bandits.
Spotlight Reviews
I should have made this movie instead  Mel Gibson
Hysterical not Heretical Scott Hahn
Makes us almost want to believe in Jesus again National
Catholic Reporter
I will never be able to pray the Fifth Joyful Mystery
of the Rosary again without laughing  Pope John Paul II
Special DVD Features include:
Commentary explaining why Jesus was not mouthing off
to Mary when he said "How is it that you sought me? Did you not
know that I must be in my Father's house?"
Interactive game where you gain points in wisdom and
stature.
Deleted scenes: Jesus practicing with a whip of cords
on some mock money -changer's tables.
Interactive game where you control Macaulay
Culkin and try to find what happened to all of his royalties.
On Sale $17.99