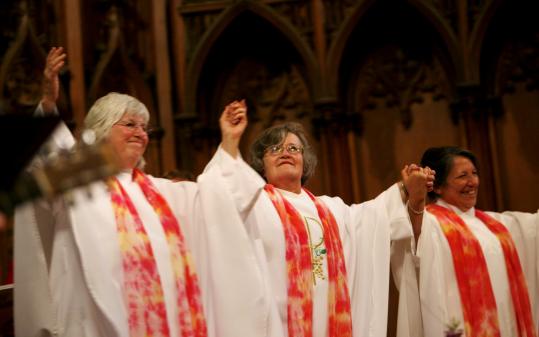 "Look at me I have been automatically
excommunicated and it is reserved to the Holy See to lift it."
The annoying thing about these faux
ordinations is that they are hard
to parody when they go to so much effort to parody themselves.
Come on tie-dye stoles? Plus
exactly what part of the ordination ceremony calls for the above
rubric?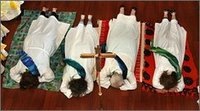 The blankets are a pretty tacky detail.
Them seem more fitting to send with your kindergarten kid for
nap time. Seen plenty of pictures of priest being ordained
and don't think I ever saw one with them prostrate on a blanket.

But priestess fashion is not the issue.
I do feel sad for these deluded women and those who support
them in their delusion.
The Womenpriests organization says
their
ordinations are legitimate because Catholic bishops in good standing
ordained their first members to become female priests and bishops.
Therefore, they argue, the women being ordained can claim apostolic
succession, or direct descent from Jesus's apostles.
That reminds me of some news I have for
you. The other day three aliens each from a different race
informed me that I had been specifically selected to be the Ruler of
Earth and Guardian of our Solar System (take that Al Gore!).
In fact I am now 23rd in line to succeed his Magnificence and
Emperor of the Galaxy. Though there is some dispute on this
from some of the other alien races so I can't tell you what aliens
selected me.
"We are not intimidated. We feel so
strongly."
Oh you feel strongly? Excuse me
that defeats all of my arguments relying on Scripture, Sacred Tradition
and the Magisterium.
I'm feeling such joy, I could rise up,"
Lee said in an interview after the ceremony. She pointed out that she
was wearing a cross from Dignity, an organization of gay Catholics.
No one will be surprised to find that
these women don't just reject this one teaching. Like I said
last week – scratch a dissident and you will find someone upset about
some area of the Church's teaching on sexual morality. If
women are being called to the priesthood then why is it only dissident
women that are being called? Where are the women being
ordained that have a preference for the extraordinary form of the Mass?
Why do they always have a preference for Hippy stoles and not
beautifully embroidered ones. Where are the traditionalist
women priestesses who are being called?
Plus how comes the "women's ordination
movement" doesn't have any seminaries? They just ordain women
without any real preparation. Not everyone who enters a real seminary
goes on to discern that they are indeed called to the priesthood, so
why it is that these women are infallible? Besides it is the
Church that is part of the discernment process and not just an
individual choice no matter how much strongly you feel about it.
The way the "women's ordination movement" has approached the
whole thing is more like a show and that they don't really believe what
they are doing in the first place.
The women did not pledge obedience or
chastity – the promises made by Roman Catholic priests – and one was
introduced to the congregation by her daughter; another by her husband.
Well exactly who would they promise
obedience to other then
themselves. Would it be the "bishop" from California
"ordained" in Germany who "ordained" them in Boston? On a side note I
am running out of sneer quote ink for this post. Whatever
happened to having three bishops involved in an ordination as insurance?
I guess one fake bishop is just as invalid as three fake
bishops.
Though since this whole thing was done in
a Protestant church they should all feel right at home. If
you have decided that you are above the Pope and the bishops in union
with him and have thrown out Catholic eccelesiology then
congratulations on becoming Protestant.
But the women who participated in the
event, along with the several hundred people who spent nearly three
hours in the sweltering Church of the Covenant, said they rejected the
excommunications and believed that the women had been validly ordained.
Wow I ought to try that some time.
Officer I reject your ticket and I believe I was driving
under
the speed limit.
Oh well what do I know after all I am only a Newsweek reporter.