Paul Cat at the always funny blog Alive and Young let me know about the YAZ: Step up and go beyond contest. YAZ is a contraceptive that not only works to prevent babies, helps with pre-menstrual emotional problems, cures acne, and makes people like you! The contest is looking for talented designers to create a new YAZ Pill Pack.
Well since I have always been willing to lend a hand to marketing for Planned Parenthood and other outfits
her are my submissions.
YAZ is a great new birth control option approved by the FDA and we know just how careful the FDA is unless their is political pressure to make a decision. YAZ like most birth control uses estrogen to make your body think it's pregnant. Surely making your body think it is pregnant 24/7/365 times how many years you use it could not cause future problems.
It also uses progestin just in case an egg gets fertilized and becomes a human embryo. Those human embryo's are sneaky things that try to stay alive and reach the uterus to actually continue to grow. We can't have that happen so progestin helps to cause changes in the cervical mucous to trap those sneaky embryos from reaching their goal. Think of it as flypaper for embryos. The stuck human embryo slowly starves to death and you have a nice backup if the actual contraceptive part fails.
We are introducing several new pill packages to help you to dispense YAZ in a fun manner.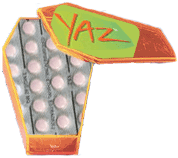 Check out the YAZ Coffin pill pack. This is a cool reminder for those pesky embryos that managed to make their way through the chemical obstacle course you have setup in your body.
It is also an iconic reminder of your own mortality. So why not go out and fornicate, commit adultery, or just live a selfish life for tomorrow you may die. And if you are going to die anyone why not go alone?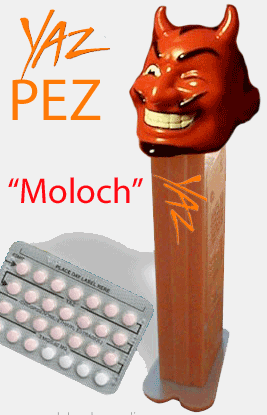 Moloch is one cool dude and he has been accepting human sacrifices for a real long time. In the old days people offered child sacrifice in the hope that Moloch would reward them with material things. Some things never change in some ways and today people don't want to sacrifice anything and a baby could complicate their life and prevent them from buying the things they want for themselves. But if an embryo manages to survive YAZ will sacrifice that child for your material benefit.
Besides using YAZ PEZ is just a fun way to dispense our pills.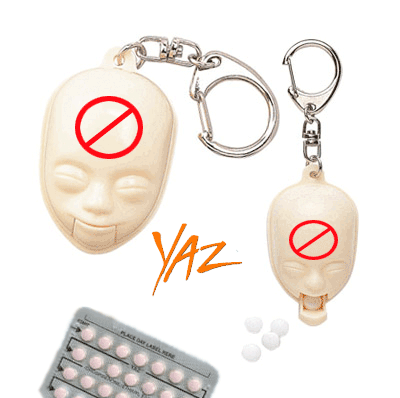 Now if the first two pill dispensers are too morbid for you and you don't like to be reminded of chemical abortions being a backup method for YAZ and other hormonal contraceptives you will just love are "No Baby" Key chain pill dispenser. After all that is why you use YAZ on the first place because you want no baby. Just because God designed the sexual act to be both procreative and unitive you say the heck with that. After all what could God our creator know about human happiness in the first place. Besides if you wanted to be pro-creative you would buy some watercolors or modeling clay. You can also use your "No Baby" Key chain pill dispenser as a contraceptive fetish. We treat contraceptives as fetishes in the first place because we give them magical medical powers that cause them to work without any side effects or long term damage. Who wants to read those pages of size four print on those inserts that come with YAZ in the first place?
With YAZ you can continue to develop your contraceptive mentality that opposes life while at the same time curing mild cases of acne! Wow!