Are you a believer and have steadily been working on improving your prayer life but now feel you have hit a wall? Do you pray and yet your heart feels separated from God, that you have no taste for thoughts, memories, and feelings, even spiritual ones? That you are praying in a deep void with no echoes of reply that God is there with you always?
If you are truly living your faith, yet have one of these symptoms you might be experiencing spiritual dryness.
Spiritual xerosis is a serious problem which can severely affect your faith if not treated correctly.
First off if you have Spiritual xerosis – don't be embarrassed – you are in good company. Throughout history the saints have experienced this in short bouts or even throughout their lives.
St. Thérèse says that, "although I had not the consolation of faith, I forced myself to act as if I had. I have made more acts of faith in the last year than in the whole of my life" and "If you think of the poems I have written, . . . I must have seemed overwhelmed with spiritual consolation and like a child for whom the veil of faith is almost torn apart. But there is no veil, but instead a wall which towers to the sky and hides the stars."
In the case of Blessed Teresa of Calcutta she disclosed to her spiritual advisors feelings of "doubt, loneliness, and abandonment. God seemed absent, heaven empty, and bitterest of all, her own suffering seemed to count for nothing, ". . . just that terrible pain of loss, of God not wanting me, of God not being God, of God not really existing."
Now your thinking "Oh great if they suffered like that, what am I going to do?"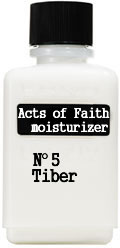 But then again you now have available something they didn't. When it comes to spiritual dryness what do you need? Why of course a spiritual moisturizer! Introducing Acts of Faith moisturizer the first sacramental lotion and the answer to your prayers!
Acts of Faith moisturizer is blessed by staff priests with a prayer that is still patent pending. We can't tell you what are special ingredients are – you will just have to make an act of faith when it comes to Acts of Faith moisturizer.
Just apply to the hands before praying. Your hands in prayer will feel real supple and your will also will be more supple and pliant to the ministrations of the Holy Spirit.
This is just what the doctor ordered – in fact St. Thérèse a Doctor of the Church totally recommends Acts of Faith.
So say goodbye to dry and start feeling closer to God once again!
When Acts of Faith moisturizer is used in conjunction with a healthy spiritual life with recourse to prayer and participation in the sacramental life of the Church you will be amazed at the results.
Disclaimer: Ensure you have performed a thorough examination of conscience prior to using Acts of Faith moisturizer. Your perceived dryness could be a result of sin and not the deprivation of spiritual consolation from God to help you grow in trust and faith. Dryness can be due to the lack of roots, because the word has fallen on rocky soil. Though in those cases you might try our award winning Industrial Strength Rocky Soil Dissolver.
Warning: If spiritual dryness persists please seek immediate spiritual direction.
No refunds: If you do not achieve the desired results it is because you are not making enough acts of faith in the first place. Please redouble your efforts of placing yourself in the center of God's will and following through with doing his will.