I saw this photo over at American Papist and it intrigued me.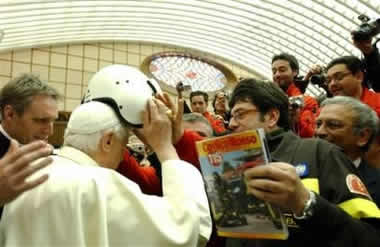 I decided to do some digging to get the back story and I found out about the new papal helicopter.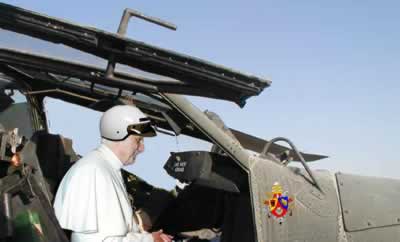 What I found was that one of the missions of Laura Bush when she met with the Pope last week was to present him with a a specially outfitted Apache helicopter. It's weapons capabilities are amazing. A speaker system broadcasts the Angelus and the Rosary and Rosaries can be ejected to awaiting people in mission territories. A large capacity tank provides for aspersion of Holy Water suitable for large crowds on Easter. Additionally a special OLED optic system on the skin of the aircraft can be used to display the words of the Mass with the current words being highlighted. This is what is known as a guided missal. If the Pope is being chased by pagan or secular forces the embedded military grade censor emits clouds of incense to cover his exit. If a radar guided missile has been launched at the Holy Father a countermeasure using Wheat and Chaff is deployed as a decoy system. And of course the backseat is always equipped with a holy water cooled 2m Canon lawyer.