Have you ever gone to the Vatican's official web site to find something and found yourself praying to St. Anthony of Padua to help you find what you are looking for? Are you convinced the the web designer for Vatican.va is a gnostic and that you need hidden knowledge to be able to navigate the circle of confusion?

For example when you saw this icon did you know that this is the link to the various news services? Did you know that clicking on Paths of the Spirit will bring you to spiritual commentary by the saints? Of course the page hasn't been updated since 18 April 2003 and you have to speak Italian or Spanish to read any of it. You spent hours and hours looking for a homily from the Holy Father only to finally find it but only in a language you can't read. This of course happens no matter how many languages you can speak. This is because when you select the desired language on the index page the site then makes sure that the majority of links will not be in that language.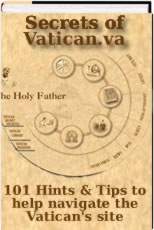 There was just nothing you could do about until now except to offer up your navigation frustrations. Secrets of Vatican.va will help you to actually find encyclicals, papal bulls, news releases, and the latest speeches or homilies you are looking for.
Learn exciting tips like that rolling over some icons will actually reveal the links that they actually go to. Read and you will receive valuable tips, click and you find, knock on the right icon and you will find what you are looking for. Because the Vatican's site is confusing and the way is hard, that leads to data, and those who find it are few.
We provide you with 101 hint and tips make navigating the Vatican's site a breeze instead of a cross. We guarantee after reading our book you won't know how you ever navigated without it.
But wait there's more! Did you know that there are Easter Eggs on the Vatican's site? No we are not talking about some Easter Bunny silliness, but hidden features and novelties that web designer incorporated into the Vatican's site. Just to show you the value of this book we will give you just one example from our 101 hints and tips.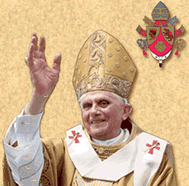 Papal blessing Easter Egg.
First go to the Vatican's site and select a language.
Click on the Pope' coat of arms an you will be on Benedictus XVI's main page.
Now here is the tricky part.
1. Click on the Pope's mitre and then quickly select the coat of arms.
2. Hold down the Alt key (or Cmd on Mac's) and select the Holy Father's ear.
3. Then while performing step 2 say a Hail Mary.
Bingo if you have done it right and were contrite while doing it you will see the Pope waving his hand and see the special papal blessing scrolling on the screen. Sorry you will have to buy our book to find out what it is.
You will get this tip and much more so why wait? Order now and we will include free of charge the translators guided to Diocesan Spokesman's Double talk. Operators are standing by!