Various readers have sent me links to news stories bout the Women's Ordination Movement and a group of nuns who have been protesting the conclave in Chicago.
Here is a video news report covering the protest and the release of what they said was pink smoke on protest. The event was called "Open the Conclave with Pink Smoke." You can see the joy of the women, nuns, and a reporter from the National Catholic Reporter at this event. That is just as long as your definition of joy includes the ability to curdle milk at 100 paces.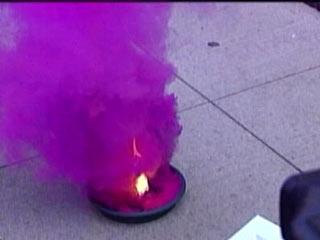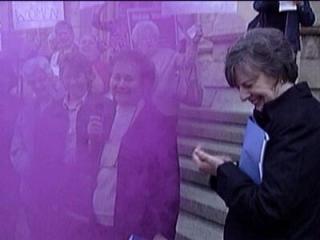 It is not surprising hat they are confused on this issue since they can't even get pink smoke the right color. Less you think that maybe these are just some Catholics who fully believe in the Church, but just think it is wrong about women's ordination. They also support programs to eliminate "heterosexism" (read gay rights) and they are of course also aligned with abortion supporters such as Kissling's CFFC.
Now I do wonder why women might aspire to be priests and one day the papacy? If you can be disobedient to the pope you can't really see the papacy as being all that important. If they can be disobedient then how could they expect people to be obedient to them at some future date. I remember hearing a story by Fr.Regis Scanlon where he told of an instance where his superior said it was alright for him to dissent from the pope. When the superior later told him to do something he said "I dissent." The superior was shocked and told him you can't do that. To which he replied "I you can dissent from the pope, I can dissent from you."
Now there is an area that aspiring women priests could move into that as of yet does not seem to be occupied. Where are the women anti-popes. There are plenty of colorful and wacky male anti-popes. I mean how can we take women's ordination seriously if they can't even put forward a good anti-pope?
Update: There are some good comments made on this post, but the following one really cracked me up.
It's like "I Dream of Jeannie" but… heretical!