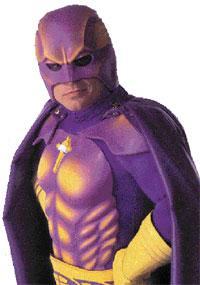 God now has his own caped crusader.
His name is Bibleman.
He's a masked superhero who defeats villains by using biblical principles.
And he has a line of videos, action figures, books and toys to take his message
to kids.
"Bibleman reaches out and presents Christ and God in a dynamic and fun
way," said Toby Pokorney Jr., a member of Seacoast Community Church in
northeast Columbia who also leads and teaches the church's elementary education
classes. "This appeals to them with the kinds of fun and action they get
through secular shows like 'Power Rangers."
Bibleman is the brainchild of actor Willie Aames, best
known for his role on the '70s show "Eight is Enough" and the '80s sitcom "Charles
in Charge," which co-starred Scott Baio.
[Full Story]
Now I suspect that this might actually be Sola Scripturaman and to remedy
this defect I dug out some of my favorite holy action cards.
To guard and protect the sacred deposit of
faith passed on by the Apostles, Tradition Man wields a mighty shepherd's
crook to
ensure the correct understanding of Bible Man.
A mild-mannered theologian by day Cardinal
Ratzinger when provoked by the progressive forces of evil becomes "Magisterial
Man!" Together in union with the Holy Father his sharp wits cuts through
the arguments of the dissenters.