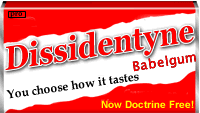 Introducing the latest and most refreshing and relativistic gum – Dissidentyne. Up to now every brand of gum the flavor would fade as you chewed. Dissidentyne solves the problem by having no taste at all so it will never fade! Simply sing a new taste into being. Use your creative imagination to choose how you want it to taste. The primacy of taste buds guides you on how you alone will favor what flavor or interpret the taste.
Why be stuck with the same old traditional flavors passed on down in recipe succession. It's the 21st century so choose what tastes fit your tastes and not be bound by dogmatic definitions of Spearmint, Wintergreen, etc. Why be universal or have a consistent gum flavor. At one time all the gum was the same till the advent of Babelgum with its towering taste that is different for everyone.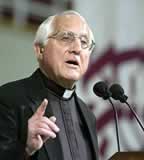 Dissidentyne was developed by, who better than Bishop Gumbleton. With a name like that and his experience who would know better about both gum and dissent.
"I wanted a gum I could chew in the cafeteria or when giving my latest speech at a Call for Action conference or while writing a column for the National Catholic Reporter. All the other gums left me cold and I wanted one as bland as heterodoxy itself. When I created my own gum, just as how I have done other things in life, I didn't rely on what was passed down or what you might expect from a traditional gum – I went my own way."
Nutritional Value
Sodium: 0g (Salt has lost its taste)
Fluff: 100%
Calories: 0
Ratzinger Daily Allowance (RDA) 0%

If Dissidentyne is not for you then you might prefer Big Rad Trad. It includes the smells and bells of traditional Catholic gum – but is totally obedience free.