Vatican, Dec. 31, 2007 (CWNews.com) – The Vatican will soon issue a new document clarifying the terms of Summum Pontificum, Cardinal Tarcisio Bertone has revealed.
Confirming reports that have circulated around Rome in recent weeks, the Vatican Secretary of State told the Italian weekly Famiglia Cristiana that the Ecclesia Dei commission will issue instructions to "clarify the criteria for the application of the motu proprio" in which Pope Benedict XVI broadened access to the traditional Latin Mass.
Cardinal Bertone said that the new document was needed because there have been some "confused reactions" to the motu proprio. In fact some Vatican officials– most notably Archbishop Malcolm Ranjith, the secretary of the Congregation for Divine Worship– have energetically criticized bishops who have failed to accept the papal directive.


This news came out earlier this week, but I have been working with my contacts to try to get more information. In a world exclusive I have gotten hold of the new document which is being released in a format that up to now has never been used before by the Vatican. I don't know how it will be received by some bishops, but I think the new format will be helpful for them.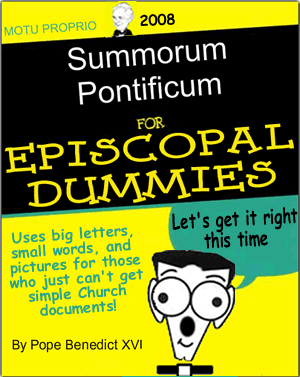 And here is a sample page.