I knew I was in for some trouble when I heard the opening lines of a homily on Sunday. It was one of those using the Super Bowl as an extended metaphor and framework for the homily. So yes bad metaphor alert. It was just as cheesy as you might imagine. The two teams rivaling each other were the "Holy Ones" and "Satan's Team" (which apparently was not a reference to the Patriots).
The eternal battle between these two teams lead by the Quarterback Jesus. Yes that was the words actually used. It was quite awkward as intentional laughter was threatening to break out over the unintentional humor of the bad metaphors. Maybe the worst part is that a fairly decent homily could have been salvaged without the football comparisons. He didn't even go for the cheap laugh over the "Hail Mary" reference. Really it was delivered very deadpan which made the delivery deeply serious. This extended football metaphor might just possible had been pulled off to good effort if delivered with some humor.
So I thought I had it bad until I saw this the following day.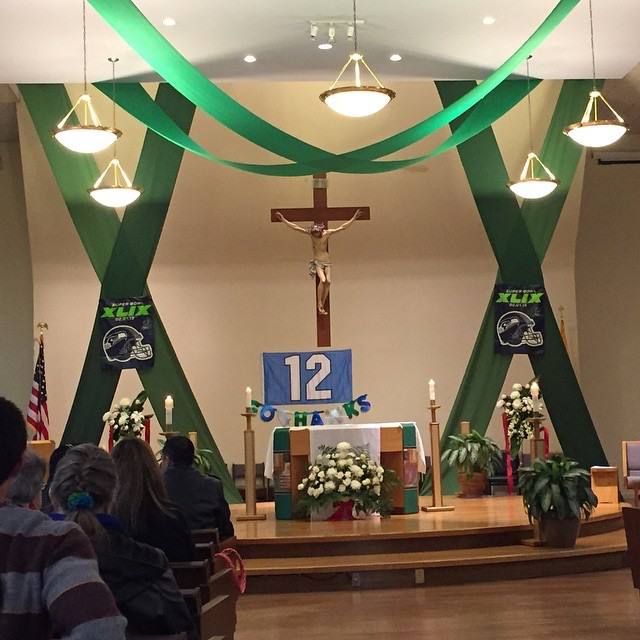 Parish: St. Mary's Catholic Church, Marysville, WA.
Deacon Greg Kandra said "Out of bounds? Yeah. I'd say so."
Or to extend the joke, the priest should be sacked over this. Well at least the colors were Ordinary Timish. Still if you watch the video it gets worse.
While not his diocese, Cardinal Dolan could not be reached for comment.