We all have a fallen nature due to original sin and man's fall from Eden. We also know from Proverbs 24:16 that "a righteous man falls seven times" so what about the rest of us who fall even more frequently? The answer is simple, we are to "pray for one another" to help us to get back up. But what if you are a shut-in, house-bound, or just don't have access to request prayer from others? This situation can be eliminated by a new service from Jester Enterprises. Jester Eternal Security Systems can now help out by providing the new Fallen Nature Monitor (Original Sin 2000). This amazing monitor can provide you with emergency prayer support 24/7. Simply by selecting the class of sin and pressing the red button your prayer request will be answered withing five minutes by our professional and prayerful staff. If you are unsure of the sin simply select Unknown and we will get some general prayer intercessions to your location immediately.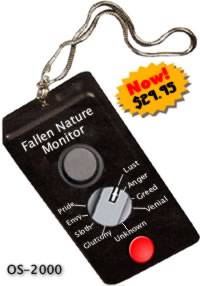 Our trained staff will evaluate each situation as it comes in and will immediately determine the level of prayer support needed.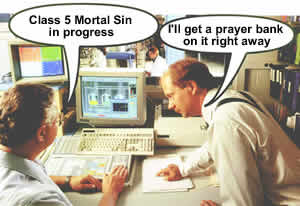 Out staff of prayer warriors is supervised at all times by Carmelite nuns professionally certified in the Teresian system at Mansion Seven. All of our employees have been state certified as "righteous" so that their prayers will avail much. Over sixty percent of our staff have completed advanced training and are currently at Mansion five or higher.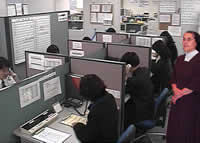 Don't go with those other cheap monitoring systems since they cut corners by hiring atheists and apostates. Go with Jester Eternal Security Systems where the prayers are timely and piously done. We go strait to Jesus and through his network of tried and true saints as our subcontracted intercessors.
The price of monthly monitoring is only $9.95 and if you act now and sign an annual contract we will throw in the OS-2000 for free.
So don't delay, just pay and we will pray.