A reader informed in about Ministry & Liturgy magazine which recently had a Visual Arts Award for Devotional Art & Spaces. The below picture is the one that one Best of Show.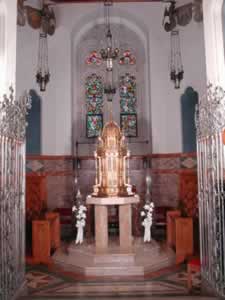 Quite beautiful isn't it. Unfortunately I was joking that this is the one that won best of show.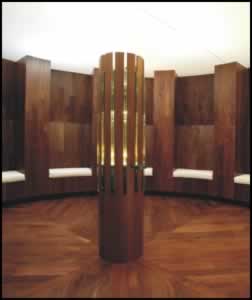 Now that is more like what you would expect a magazine called Ministry & Liturgy to select. This one reminded Andy Kosmowski of a Star Trek: The Next Generation episode called "Allegiance." I would almost be afraid to go in this chapel. It seems like once everyone was seated that the room would start to spin around like a ride in an imagined Catholic theme park. Take a spin in the Blessed Sacrament centrifuge.
Here are some other tabernacles that seem rather odd to me. Possibly this is what Blessed Teresa of Calcutta meant when she said "Each one of them is Jesus in disguise."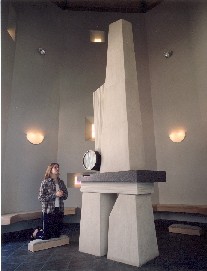 This one is from the Corpus Christi University Parish Facility "features a 13-foot height limestone tabernacle with a bronze cylinder, which hovers over a granite shelf." I think the woman is praying "please don't fall on me"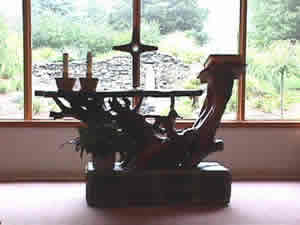 This is what happens when the parish budget can't afford a gardener.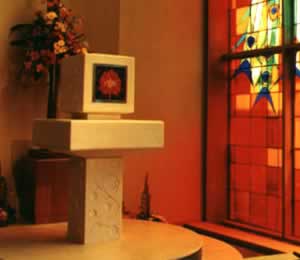 I can't seem to find the remote control.
Most of the churches in my parish that I have been to have very nice tabernacles. There was only one that looked like it was a white square made of bakelite that really was not pleasing to the eye. I guess I was not the only one who thought so since the last time I went to that parish they replaced it with a much nicer one.
I am also not thrilled with the prevalence of so many Blessed Sacrament Chapels where the tabernacle has been moved from the altar to some lesser place. Though this seems to meet the theology of many churches where Jesus is also removed from the center and the focus turned on the people. I can understand why churches with 24 hour adoration use these chapels since it is much easier to be able to provide security by allowing people with code access to come an pray anytime they want. What really annoys me are these chapels that have a very limited for sitting. For example a large parish that has only two Prie Dieus in the chapel area because the area is so small to begin with.