Santa Rosa, Calif., Jul 17, 2009 / 06:49 am (CNA).- Comparing the Sacrament of Penance to "an oil change for the soul" and weeding one's garden, Bishop of Santa Rosa, California Daniel Walsh has urged Catholics to return to regular confession of their sins.
Writing in the Summer 2009 of the diocesan newsletter The North Coast Catholic, Bishop Walsh noted that car engines which don't receive oil changes build up minor impurities and eventually result in "major and costly problems."
Likewise in other common tasks, failing to clean hard-to-reach parts of a house will result in areas "filthy with dust." Failing to weed a garden allows weeds to "take over" and crowd out the garden.
"The sacrament of penance is like an oil change for the soul," the bishop said. "It's like moving the furniture of our souls and getting to the places that escape everyday cleaning. It is like periodically checking the garden of our souls for weeds that hamper our discipleship."
He cited Pope Benedict XVI's exhortation for Catholics to rediscover the "liberating power" of the Sacrament of Penance in which an honest confession is met by "God's merciful words of pardon and peace."
"Since the Second Vatican Council and the cultural revolution of the 1960's, the Sacrament of Penance has experienced a decline," Bishop Walsh pointed out. "We can list many reasons but I don't think one of them is that we have stopped sinning! I think in our permissive society we have lost the sense of sin."
He encouraged all his readers, clergy and lay, to return to the sacrament.
"I know there are many people who for many reasons haven't been to confession for a long time and may not remember how to go, or may not feel comfortable going. Whatever the reason, I invite all to come back home, come back to the Lord."
In confession, Bishop Walsh said, Jesus asks us what he can do for us. After unburdening our hearts, the bishop said, we will hear Him say "Go in peace, your faith has made you well."
Confession compared to oil change? I wonder if the good bishop has been reading my blog. Here is an entry from 4 years ago.
Perhaps I am a bit off on this, but I have made an informal study of the surrounding parishes in our area. It seems that most confession times are on Saturday afternoon and "By Appointment." So If am to serve Mass on Saturday morning where the heck is one supposed to go to get a confession on Friday Night? Since I take Paul's admonishment that to partake of the Body and Blood unworthily is to eat and drink damnation, what do I do? Easy. I ask for confession and get a bit miffed when the Priest asks me if I know about the regularly scheduled times for confession.
So… The chicken and egg question today: Is the lack of use of the Sacrament of Penance or Reconciliation due to the fact that times are not available or is it due to the lack of instruction on the need for this sacrament?
Build it and they will come? If you increase confession times will people flock to confess?
I think the "build it they will come" idea is correct. At my parish they have confession before each Mass which is twice daily and four times on Sunday. There is always somebody in line and our pastor will hold off Mass as long as possible to try to see everyone in line. I have occasionally been to other parishes during the short time frame confession is available on Saturday evening and rarely have seen more than just a few people in line. This is of course only antidotal information, but what I describe seems prevalent by what I have read.
Being a convert I have sometimes wondered how this wonderful sacrament got so deemphasized? It seems doubtful that parishes just all of a sudden switched from having confession generally available to the model we have now. It would seem more likely that people had already started to less frequently go to confession and because of this trend that parishes started to diminish the amount of time confession was available. That the demand for confession was reduced over time because sins themselves had become deemphasized. Cut out sins and you cut out the need for confession. Original sin becomes original complex in this highly therapeutic culture. People will get in line to broadcast their most intimate details on Oprah or Dr. Phil, but will run screaming at the thought of a confessional and confessing their sins to a priest. We have analyzed that having guilt is an underlying cause itself that must be eliminated and ignore the fact that it is a symptom normally of sinful activity.
Regardless of how we got to this point the question is how we can reverse it. There has to be both an effort to make it generally available and for Catholics to understand that they need it. I am convinced that a new springtime for the Church will not blossom until such time as Catholic generally return to confession. Unfortunately confession is just seen mostly as "just so pre-Vatican II" and many priests discouraged the use of regular confession in the case of venial sins. Most of us will readily admit to being sinners in some generic capacity, but it seems another story to admit to individual sins.
We are currently in the year of the Eucharist as proclaimed by our late Holy Father. I think we need a year of mercy to concentrate on the sacrament of confession. People definitely need to be catechized to see the link between confession and the Eucharist. To properly prepare ourselves for worthy reception. I would love to see an encyclical letter written on the subject to emphasize once again this wonderful sacrament of mercy. I also realize though that even when the Vatican has lead on important subjects that unfortunately they are largely ignored or not really implemented a the diocesan and parish level. But even a small amount of people regularly returning to confession will have a large impact on their lives and consequently the life of the Church.
The question though is what is the best method to get American to frequent the confessional? In this fast food culture maybe we could appeal to a fast food idea like drive thru confession. I propose a new company called Jiffy Shriven after the Old English term to go to confession.


Here would be my logo.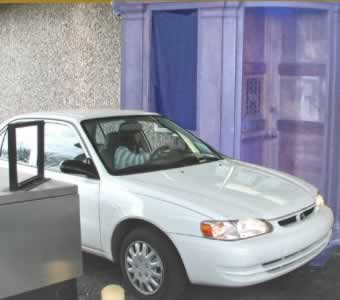 And a sample drive thru.
And to easily remind people when to return to confession, the following sticker could be placed on the driver side windshield.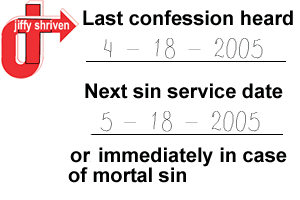 While your there they could also check your holy water font or holy water bottle level to see if more fluids need to be added. Though you won't have to worry about them trying to hawk other sacrament while there. You won't hear "I noticed you are not looking so well. We can give you final unction as part of a package deal."