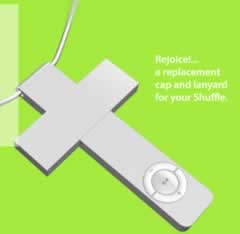 No not another one of my parodies but a real product called the iBelieve which is a replacement cap and lanyard for Apple's iPod shuffle. On their page it says:
"But now bring me a man who plays music, And when the man played music, the groove came upon them." 2 Jobs 3:15
Shouldn't that be Steve Jobs 3:15? They are also donating $2.00 from each sale to Red Cross Disaster Relief Fund and various Children's charities.
Now I would have though of the iPod shuffle more suitable as a Darwinist device being that the shuffle plays songs randomly. But being that the randomness is only apparent since it relies on a higher intelligence to program the appearance of randomness; I can think that it goes along with those who believe in theistic playlists, that in fact the randomly selected songs are actually providently selected.
Here are some reactions to the combination of a shuffle and a cross.
I never thought something so symbolic could be made so crass…I was wrong
and
Now I can fight vampires while rockin' out!!
Are there any garlic-encrusted cases for the iPod yet…
Now is this trend more evidence of music worship and the cult of superstars? Probably, but I imagine it could be used as a good topic starter for a budding apologist. Now even though I am a iPod owner I have definitely noticed a cult of iPod and the staunch defenders of other MP3 players. There is almost a tone of apologetics in the articles in support of the various music playing devices. I can easily image an iPod owner who buys another device being branded a heretic. With all the fancy protective cases available for the iPod and the reverence held for them by some owners I am surprised that a line of iPod reliquaries has not come out.
Via Cnytr the other day I ran across the blog iDominican.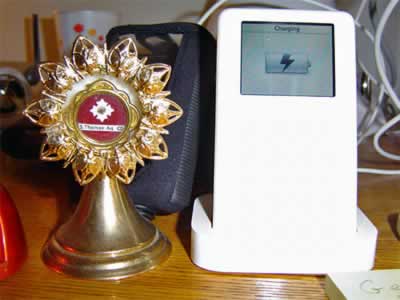 Now this seems to be properly ordered to their own sphere, but maybe for visual ordering he needs a larger first-class relic of Saint Thomas Aquinas or a smaller iPod.