Equip yourself for the
Christian life with these new Bible Belts™ for
every person and occasion so that that the man of God may be complete,
equipped for every good work. A just man's pants fall seven times a day
so keep that from happening with these great Bible Belts™. Are
you at work or in a grocery store and somebody challenges your faith?
Are you always prepared to make a defense to any one who calls you to
account for the hope that is in you? Sure you have tried the normal pocket
Bibles, but they are just too hard to read. Why not go with the real
thing that will be in front of you ready for any occasion.

King James Bible Belt™. Do you
enjoy the beautiful language of the KJV? Then this is the belt for
you.
Comes with a spring loaded cover ready for that fast paced game of
Bible Ping Pong. Pages are specially treated to help you to quickly
get to the verse you want.
Our Price: $29:99



Catholic Family Bible Belt™.
Yes even Catholics can read the Bible! This Bible is heavily indexed
since you know the verse you want is in there somewhere. Now with
seven more books then the KJV! This belt has plenty of room to attach
Holy Water Fonts, Reliquaries, and you favorite Holy Cards. Also
comes with a sewing kit for those Scapular cord emergencies.
Our Price: $39:99



Apologist's Bible Belt™.
Comes with King James Version, Catholic RSV and Strong's Bible Concordance.
If your a professional apologist then this is the Bible Belt for
you. Be prepared for those Bible Tag Team matches and be ready for
any move.
Our Price: $69:99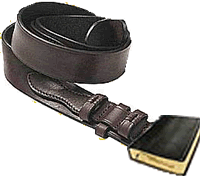 Compact Men's Bible Belt™ Select
the Bible version that you want for those who want a fashion conscious
belt.
Our Price: $29:99



Women's Fashion Bible Belt™ Comes
in only the most trendy Biblical Translations that never make you
look fat.
Our Price: $39:99


And if you act now with every order you will receive our
new teflon coated sandals absolutely free!. Dust will not adhere to them
so that when you preach to a town that will not hear the Gospel there is
not
dust
to
have
to knock off at the end.