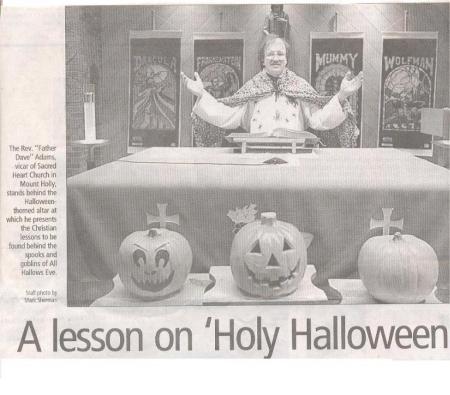 Growing up a member of the Adams family, The Rev. Dave Adams got kidded about the old TV show featuring creepy family members who snapped their fingers in unison and were particularly popular during Halloween.
The holiday was always "a big deal" in this home with spooky sounds from a tape recorder, and a lurking cast of Halloween characters – Dracula, Frankenstein, mummies and werewolves.
Years later, after he was ordained a Catholic priest, "Father Dave" as he is affectionately known, saw a change. The monsters, such as Freddy and Jason, were more violent and more shallow – just "gash, dash, bash and slash," he said.
"When I was a kid there wasn't this emphasis on blood and special effects," said Adams, the parochial vicar at Sacred Heart Church in Mount Holly.
The early monster movies focused on how the characters got to be the way they were and there were lessons to be learned, he said. He began sharing them during Sunday Mass and campfire Masses with area Boy Scouts.
The response, he said, was so encouraging that two years ago he put together "Holy Halloween!" a one-hour, light-hearted look at the Christian messages lurking in All Hallows Eve. Word of the presentation spread and other parishes invited him to speak, so he now takes his Halloween show on the road.
Last week he took his props and visual effects to St. Ann's Roman Catholic Church in Lawrence for an entertaining, informative, inspiring – and a bit nostalgic – show.
Old monsters, such as Dracula, Frankenstein, the Mummy and Werewolf are different from the new characters, which are "very shallow, and the plot line is an excuse for a lot of blood and screams," he said. "If we can get back to the original, not just the plot, but the characters and what makes them tick, we can draw lessons out of it."
[Full Story]
The good news is that it appears that this was a talk and not a Mass, though dressing up in preistly garb and given this talk from behind the altar is pretty questionable.