PORTLAND, OR | Sun Jan 27, 2013 4:31pm EST
(ROTO REUTERS) – Parishioners at Prince of Peace Catholic Church are looking for new members. This vibrant inclusive parish is looking to expand in the community and to bring its brand of active participation to everybody.
This Sunday it was rather awkward when they realized there was nobody in the pews to receive Communion and that everybody there was a Extraordinary Minister of Holy Communion (EMHC). Normally there were a couple of people available to receive Communion since they had not yet finished training to become a EMHC. Unfortunately they were out with the flu this week.
Ms. Eve Rewon remarked "Usually each week we have fun trying to entice those couple of people in the pews to come up to us to receive. It is such an honor when out of all the EMHCs available they come to you to receive our Lord!" Another EMHC Mr Juan Per preferred the days when only half of the parishioners were EMHCs and liked each person having their own EMHC to serve them. "This was real customer service where you could come to have a personal relationship with your EMHC. Although it took quite a while for Father to give us all Communion, it was really fast afterwards when each person came up to their designated
EMHC."
Prince of Peace Catholic Church is also currently creating plans for building a new church building. Fr. Git Along said "We have outgrown our parish since the sanctuary is super-crowded with no room for expansion. Some have suggested removing some rows of pews and expanding the sanctuary that way and perhaps that might work for now. Ultimately though we have to expand the sanctuary to accomodate EMHCs and have enough lanes of traffic along with room to grow."
Emergency plans were drawn up after Mass to find new ways to evangelize in the Community and to find people to receive Communion. To go out into the whole world and spread the good news and to become part of the track to becoming a parishioner and ultimately also an Extraordinary Minister of Holy Communion. One anonymous parishioner told us "We are going to have to go all Mormon and JW out there going door to door to make sure this happens."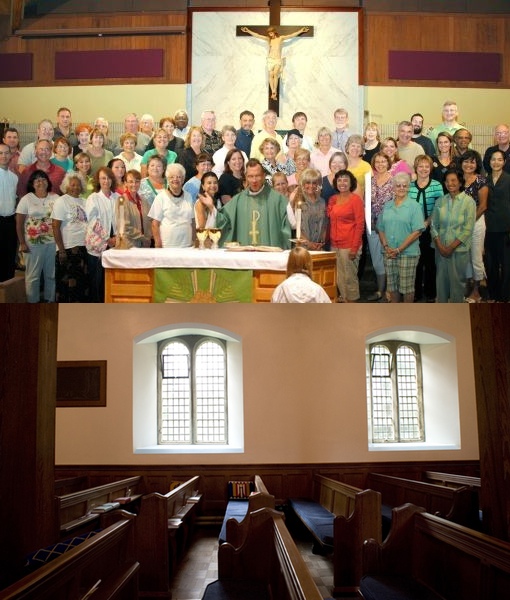 Notes:
Inspired by a Mass I went to this week with over a dozen EMHCs.
The photo was cobbled together from a couple of images on the internet. No disrespect intended for the priest in the photo or the people in the group shot of actual EMHCs.